Introducing intelligent tools that make Airtable even more intuitive and accessible.
It's a big day here at Airtable. We hope you're as excited as we are. Today, we're sharing a bevy of new tools, including some customers' most frequently requested features, so teams of all sizes can accomplish more using Airtable.
Now, you can bring in new types of data, so your team stays organized around a single source of truth. You can more easily track timelines to keep your projects and campaigns on track and on budget. And, you can quickly create automated email digests that keep everyone up to date.
Let's take a look at what's new.
A new way to track progress and organize your sidebar
Every team knows their timelines with Gantt View
It all starts with our new Gantt view, which allows users to quickly track a project's deliverables by start and end dates along with their dependencies. We've replaced our original Gantt app with the new view and updated it with your most-requested improvements.
Now, you can create the view right from your sidebar, use it in full-screen, and share it with external partners. We've also added "Milestones," which give teams the ability to visualize specific deadlines or checkpoints in a project timeline. Users can also hide weekends or transition between birds-eye and granular views with Nested Groupings.
Tidy up your view sidebar
Teams with complex workflows use dozens of views to visualize their data — but that can make the view sidebars of larger teams a bit difficult to navigate. That's why we're introducing view sections. As simply elegant as it sounds, this feature allows you to organize your views into collapsable sections. We think large teams will find the new, clean sidebar faster and easier to navigate.

Learn more
New ways to sync essential data
We created Airtable Sync to help teams sync their most important data—even when that data lives within completely different bases. But your company's data might also live in other services—like Salesforce and Google. So we're expanding the functionality of Airtable Sync to help teams harness that data, too.
Collaborate across external data sources
External source syncing enables automatic—and continuous—synchronization from approved sources. Once that data is brought into Airtable, many new possibilities emerge. For example, marketing teams can sync in a list of top accounts from Salesforce for campaign planning.

You can now sync data from Google Calendar, Jira Cloud, Box, and Salesforce.
If your company relies on any of these services, this feature can contribute to some massive time savings by removing error-prone manual updates.
Sync across multiple sources
We're also making it possible to sync multiple external or internal sources right into one view. We're calling it multi-source syncing, and it's a streamlined, enterprise-ready way to aggregate, monitor, and execute against critical information. It's perfect for complex collaborative tasks, like transforming data from different teams into a consolidated company roadmap or creating executive rollups of communications activities across business functions.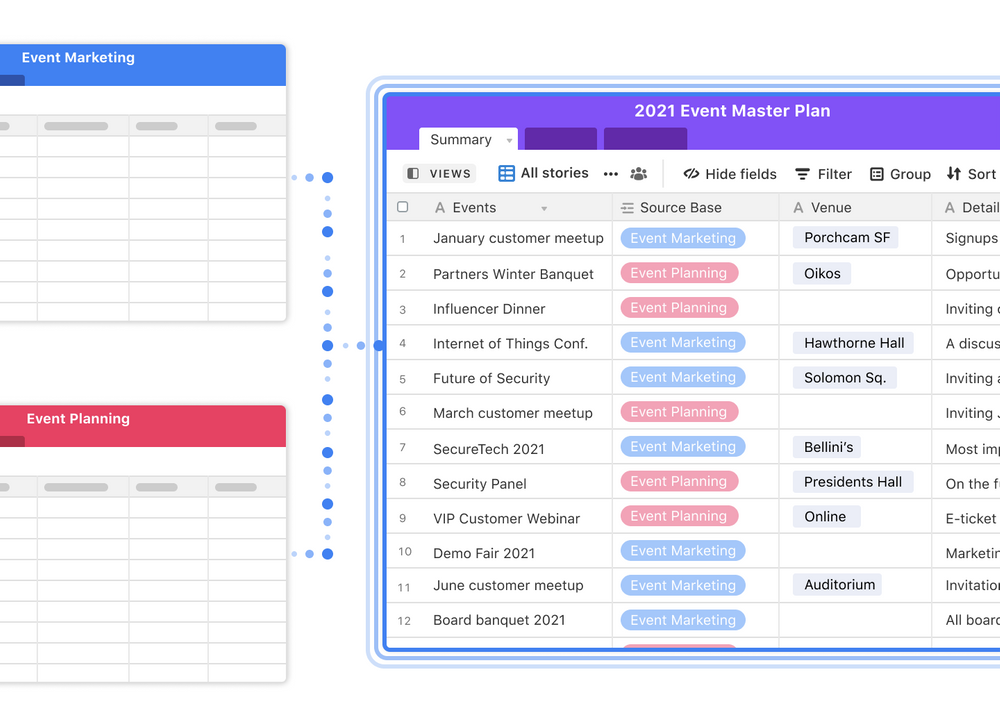 Read more about multi-source syncing
A new way to automate and help teams scale
While every company is different, many of their pain points are identical. Teams must track important data, communicate to stakeholders when that data changes, and deal with inefficient context switching between a range of services. The right automations can ease those burdens, but for non-technical users, getting started can be a little daunting.
That's why we've created a curated collection for you to explore. This hand-picked list of pre-built automations includes many common use cases—like posting to Twitter or sending a Slack message—and provides a simple, guided process to begin using them at your company.

Explore our brand-new curated automations
Save time with automated email digests
Our new email automation enables teams to create a recurring email digest based on ever-changing data in your bases. These email digests are perfect for cutting down on time-consuming status checks and standup meetings. It's just about effortless to create, schedule, and send emails to relevant parties at whatever cadence you choose.
Read more about automated email digests
Use automations with your best-in-class services
We've also made it possible to use automations with many popular services, allowing you to automate external actions and prevent context switching:
Google Workspace: Create events in Google Calendar or run an automation when events are created, updated, or deleted.
Outlook: Update emails and calendar events in Outlook and update Airtable data via Outlook.
Hootsuite: Create a draft campaign in Hootsuite.
Before you go...
Phew! Was that a lot? If you're interested in learning more about any of the features above, we're constantly updating our support center with new help guides and webinars. Check out our plans for further details.
And most importantly, thank you. Your requests and feedback constantly inspire us to make Airtable even better. So please, keep those comments coming… and we'll be here, building.