Keep your calendar up-to-date with all that goes on in your base.
Chances are you already have a calendar that helps you schedule every aspect of your life. And regardless if it's Google Calendar, Outlook, Apple Calendar (née iCal), or something else entirely, you've got a mix of meetings, doctor's appointments, and birthdays to track.
But what if you could also take your immaculately planned Airtable base and keep it synchronized with your calendar—so that you never accidentally overlap the two again? Luckily it's quick, easy, and oh so satisfying.
A calendar that has been properly connected to an Airtable base can stay up-to-date with any modifications or deletions—but be aware, it's a one-way street. If you change anything from the outside calendar, it won't be reflected in your base (you can sync to Airtable from an external calendar using Airtable Sync, but that's a different process).
So, how do you make this self-updating calendar work?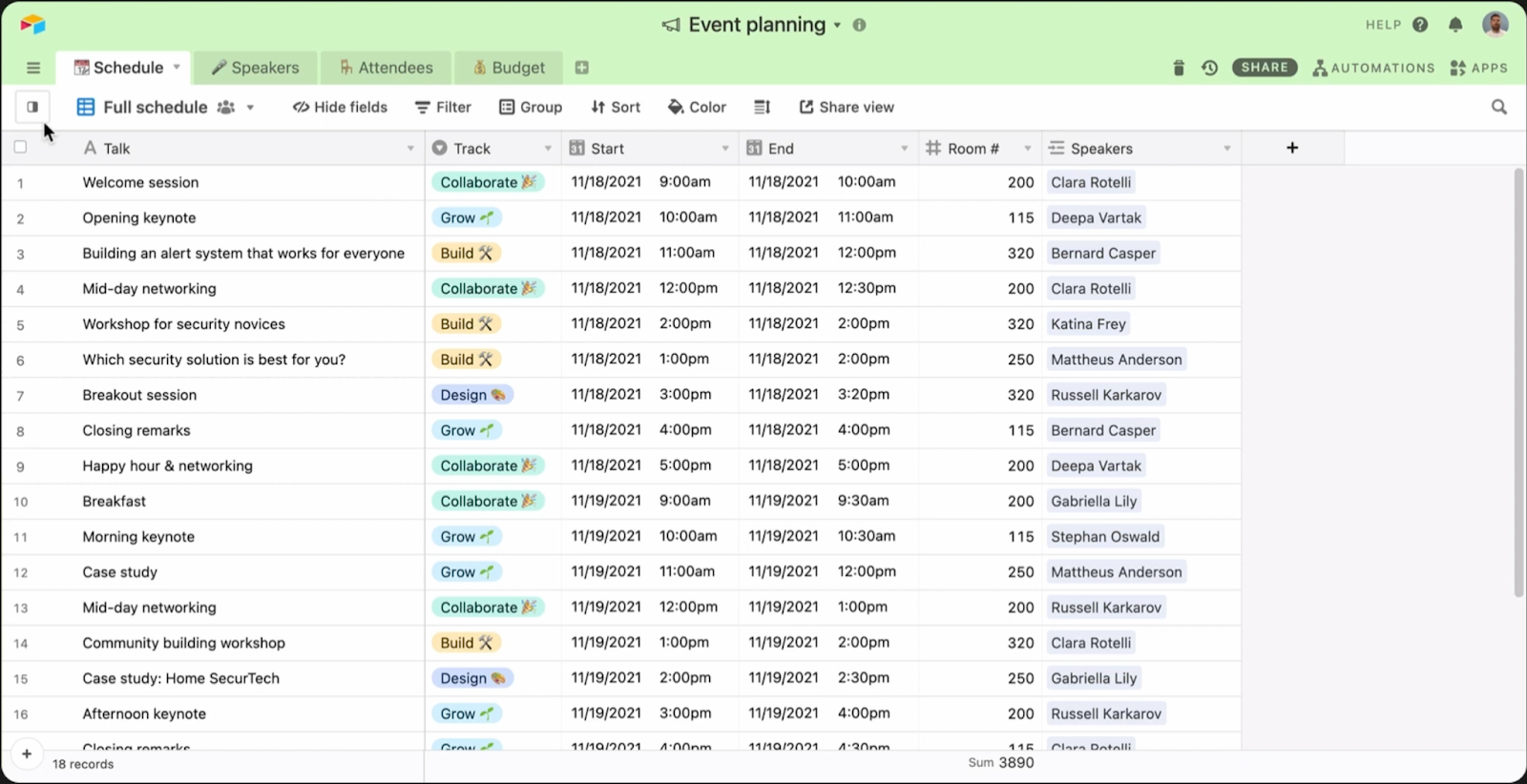 The first step is to create a calendar view within Airtable to see your series of records as events. These records need to have a start time, an end time, and a title in order to populate the calendar correctly.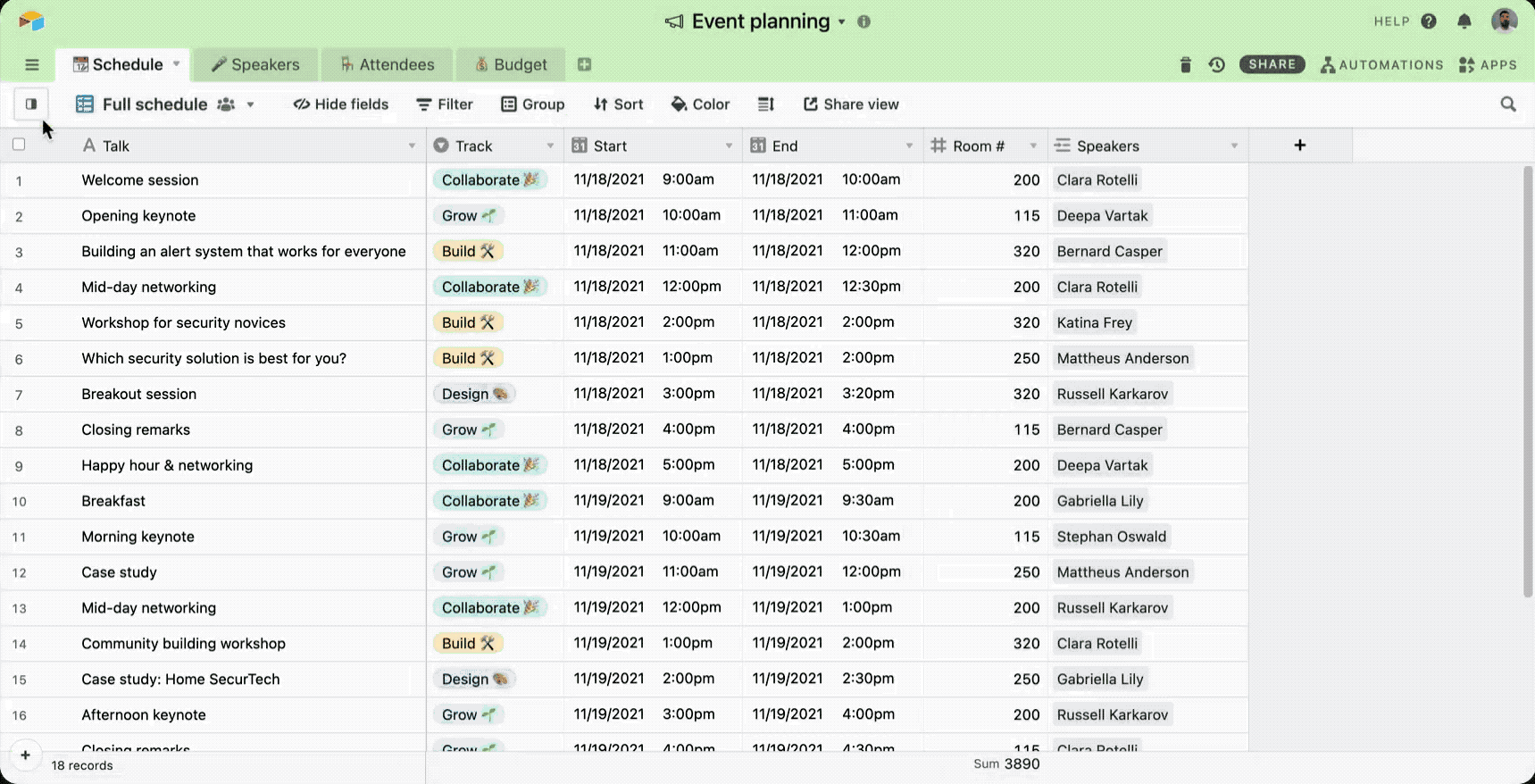 Here's an example. Let's say you're managing an event using Airtable, and set up every record in the "Schedule" table to represent a talk—with a title, start, and end time—and then make a calendar view, showing those talks chronologically.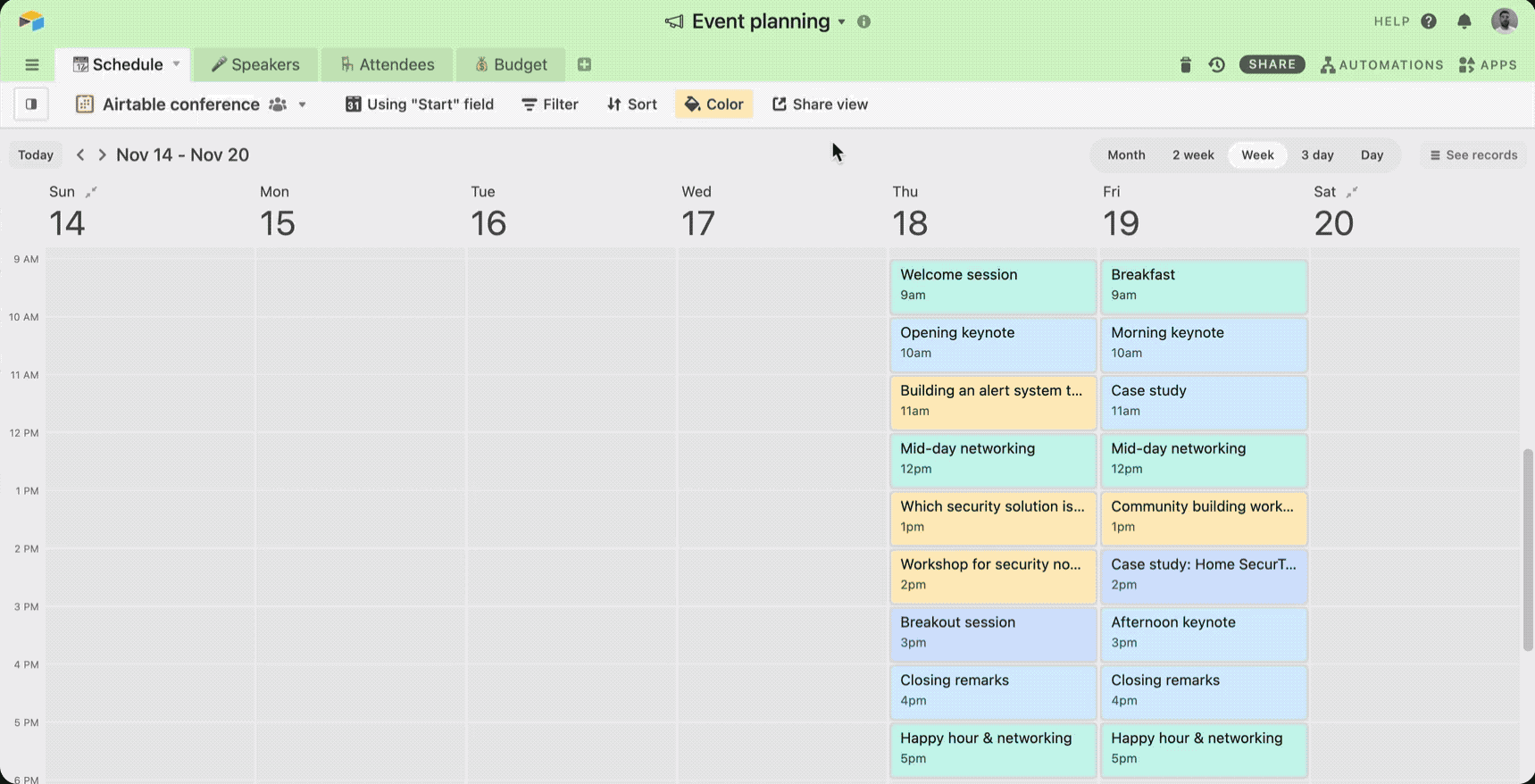 To share your calendar, go to the "Share View" menu and click "Create a shareable calendar view link." This will generate a link to your calendar view within Airtable that you can share with anyone, but to sync with an outside service, you want to go down to "Sync to an external calendar" instead. This generates a URL that most calendar applications can use—such as Google Calendar, Microsoft Outlook, or Apple Calendar.
Now your calendar will automatically populate with every talk in your event, and if you update the talk, your calendar will update too.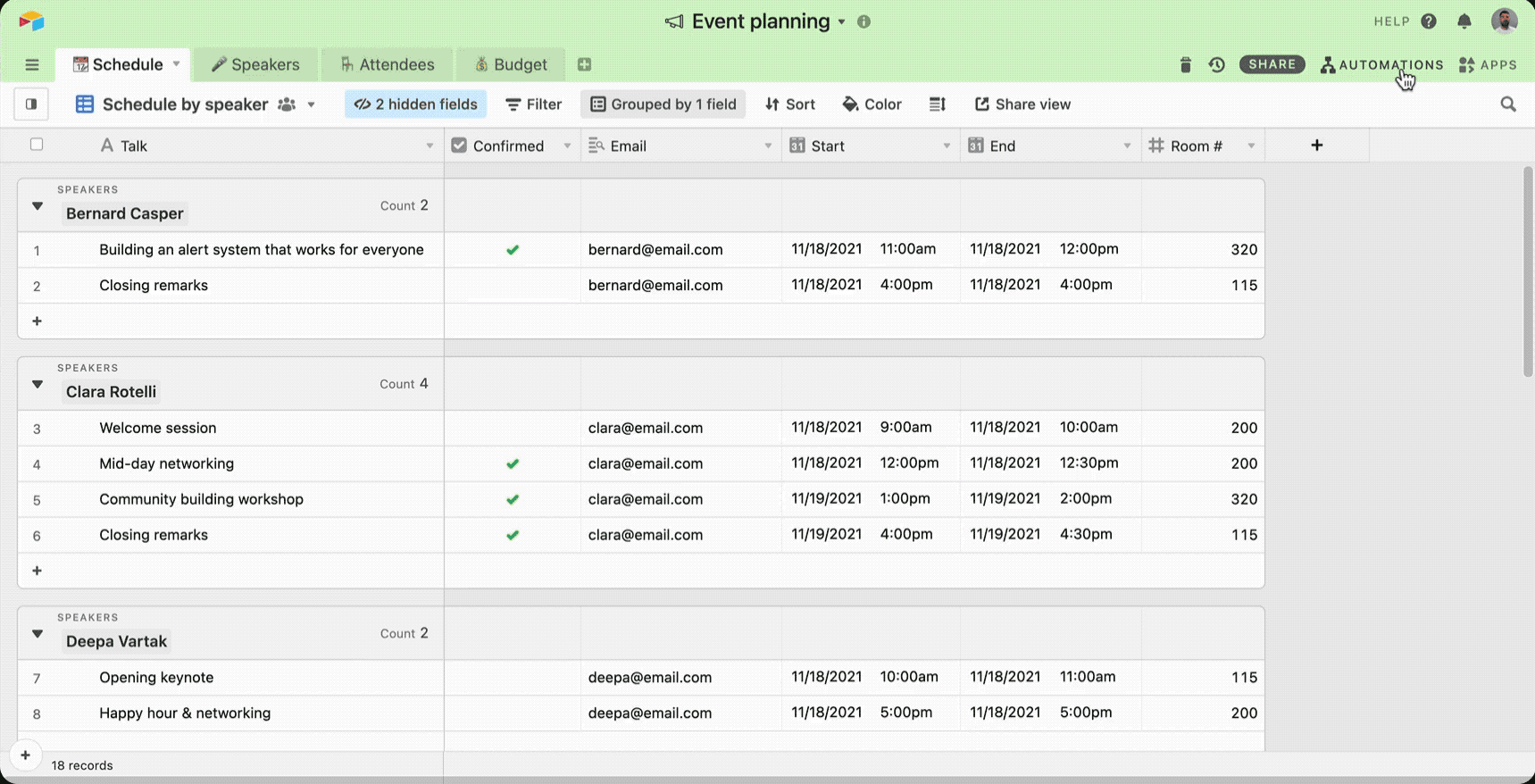 With Airtable's automations, you can create even more powerful and customized synchronizations. For example, you might not want to sync your whole calendar, but would like to use certain events to trigger an outside calendar—like sending speakers dedicated invites for their speaking slots.
For this, go into the Automations menu at the top right of your base and select "create a custom automation." To send out an invite whenever an entry gets confirmed, we set up a trigger as:
Trigger type: When record matches condition
Table: Schedule
Condition: when the "Confirmed" tag is checked
Once you've set your trigger, run the action "create an invite."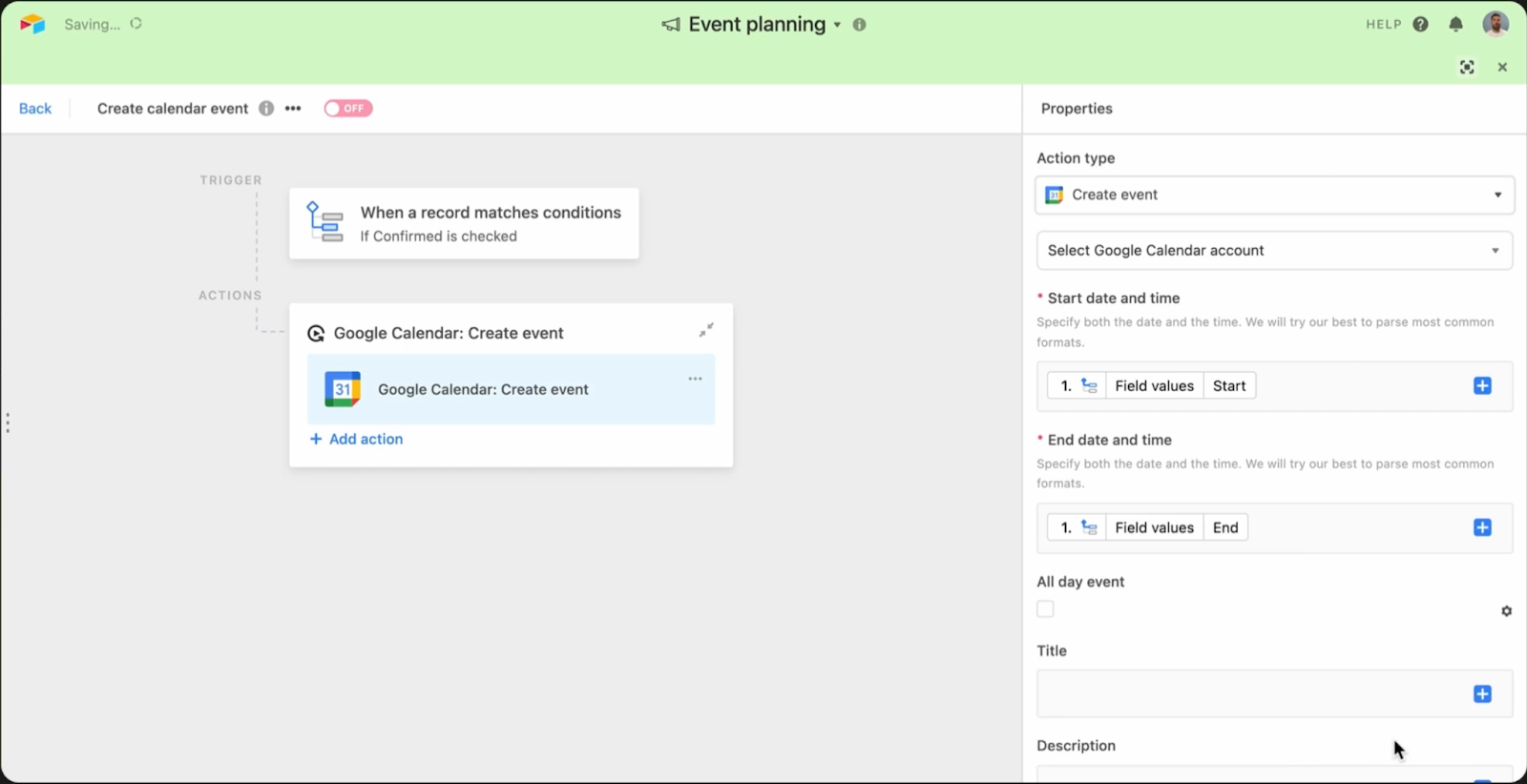 From there, grab the start time, end time, and location from the record, and invite the speaker using a record's email address. Now whenever a talk is confirmed, the speaker automatically receives a calendar invite—without being flooded with every single talk for the entire conference.
Using automations to create events is perfect if there's a specific moment in your workflow that requires you to create the event, like a kickoff meeting, candidate interview, or confirmed appointment.
Airtable can be a powerful scheduling application. Between the ability to create events from almost any record to syncing with outside services, you can use it to run almost any timetable—and make sure everything stays up to date and accurate.