Keeping track of freelancers getting you down? Make your life easier by adding a CRM to your editorial calendar in Airtable.
Editorial managers have a lot on their plate—our content-hungry world demands media to consume, and someone needs to provide it. Work is scattered on a spreadsheet here, a doc there; meanwhile, your list of freelancers is growing as more projects are added by the day. It's easy to lose track of important information while maintaining a packed editorial calendar, and wasting time tracking down the data you need as a deadline looms really isn't an option.
Fortunately, help is just around the corner. Let's reap the benefits of adding a CRM directly into your editorial content pipeline on Airtable—a powerful way to consolidate the exact knowledge you need in one place. (If you don't already have an Airtable base set up to manage your content, you can make a copy of this template for yourself and follow along.)
Create a connected contacts table
First, let's create a separate table for contacts (in this case, a list of our freelancers) and link it to the other tables in our base. Linked contacts tables are great for organizing, storing, and accessing information about specific individuals throughout our entire base—perfect for any CRM. You can import any existing spreadsheet directly as a new table to save a little time.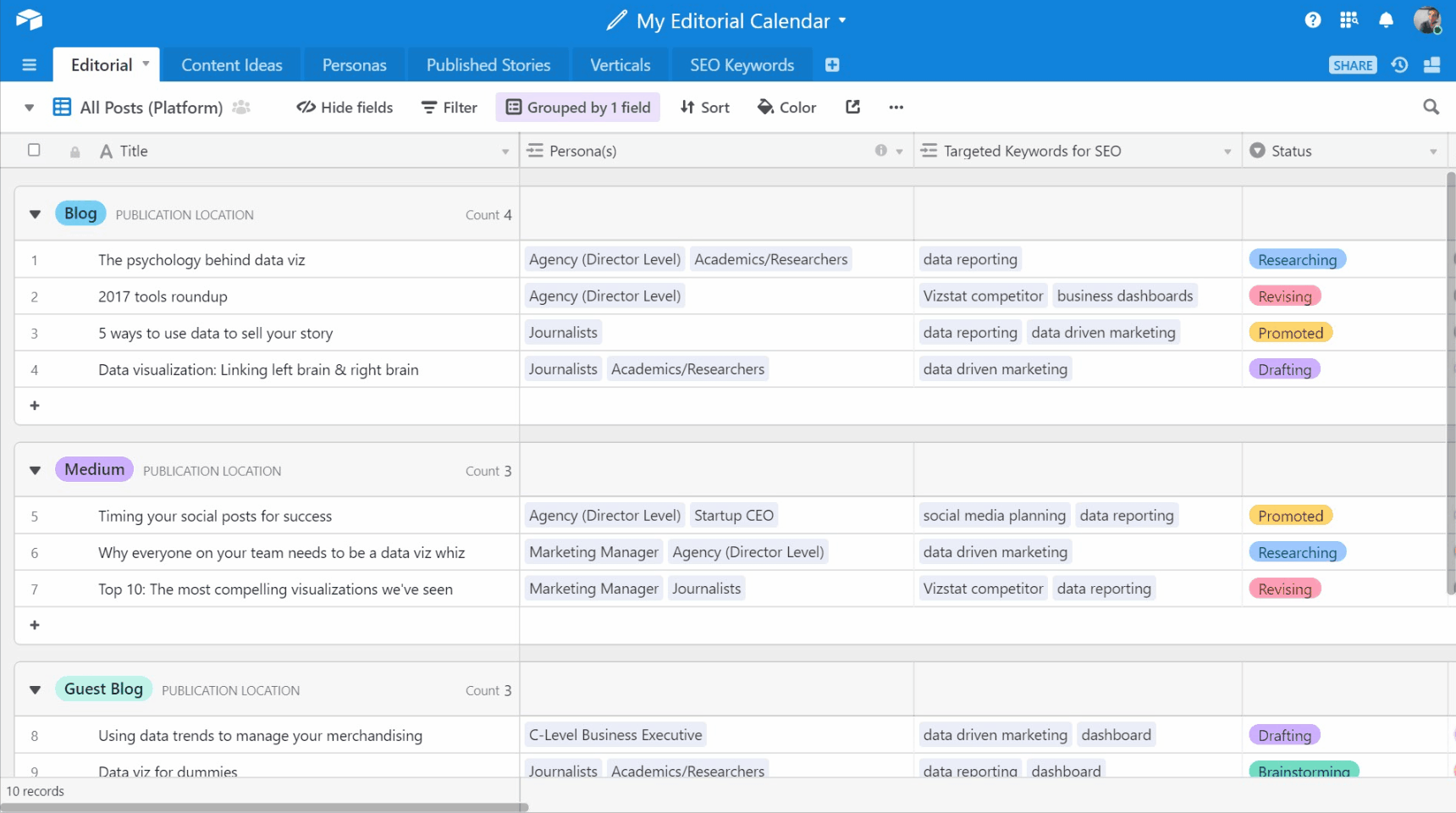 Create an timesheets table
A functional contacts table is a detailed source of information about the freelancers in your orbit. You can put this existing information to work as the basis of another, more dynamic type of table—a table which tracks each one of the "interactions" you've had with each of your contacts. In this case, the salient interactions are the instances when a freelancer works on a particular project.
Create a new table to track freelancer timesheets, and connect this new table to your contacts table and to a table of assigned projects. This will help you track each freelancer's progress, and show the details of how each freelancer is related to each project.
Tables representing the interactions that you have with contacts over time lend themselves to expansion, and are adept at displaying dynamic combinations of information. We added some new fields—an attachment field (retitled "Drafts"), a date field, a number field, and a formula field—that flesh out our Freelancer Timesheets table, lending body and adding rich, supplementary information in a single place. The formulas function is a great way to make specific information, or groupings of information, available to us at a glance. We decided to use the concatenate function to combine writer and date information in one field (don't hesitate to consult the Formula field reference to find the perfect formula for your needs).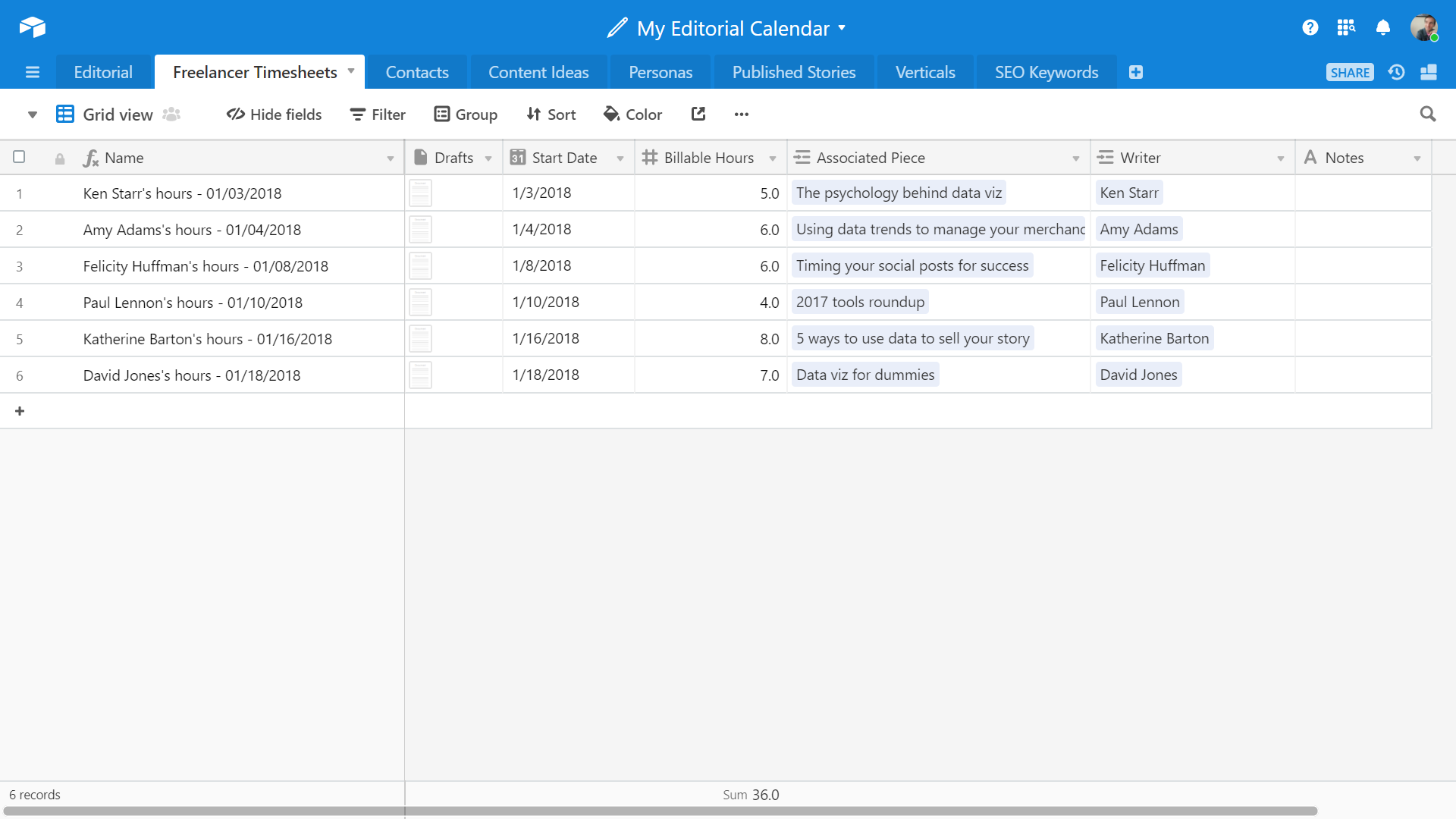 This is a lot of beneficial knowledge in one place—can you feel the weight of the world lifting off your shoulders? But you can breathe even easier once we unlock more insights using some advanced Airtable features.
Gain additional insights
Linking your contacts and interactions tables makes it possible to surface new insights about your relationships with your freelancers. Adding a count field to our contacts table will total the number of links in a linked record field, keeping track of the number of pieces our writers are working on—especially helpful for monitoring progress with impending deadlines.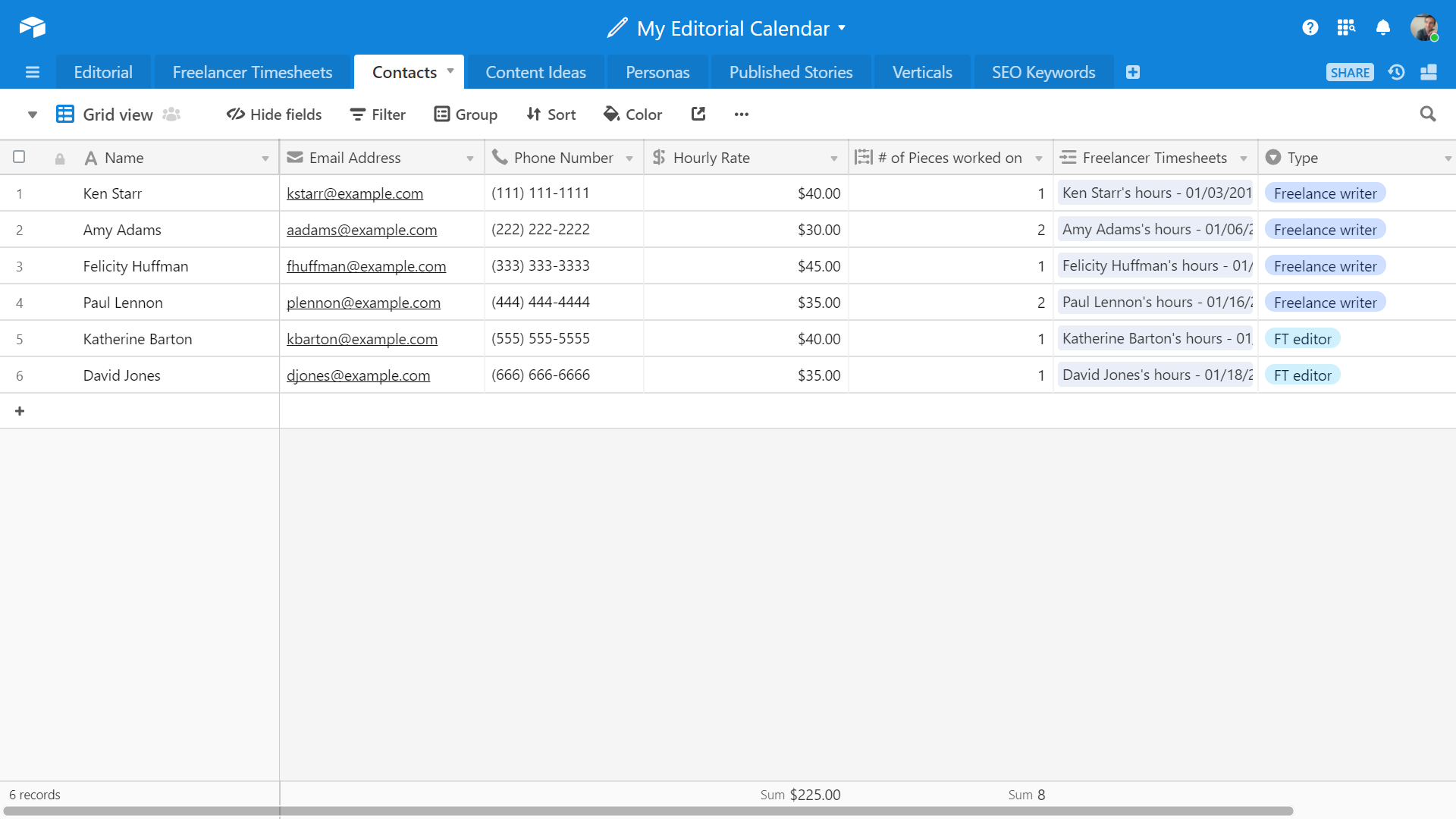 Other information, like freelancer hourly rates, lends itself well to a lookup field. These fields use the links you've created to pull the most important information from one table to another. Conveniently, these fields automatically update themselves when the looked-up field changes, so you won't waste time identifying and reconciling incongruencies between spreadsheets.
We can use this looked-up field to add even more depth to our Contacts table—let's apply a formula to calculate the total billable hours for each freelancer.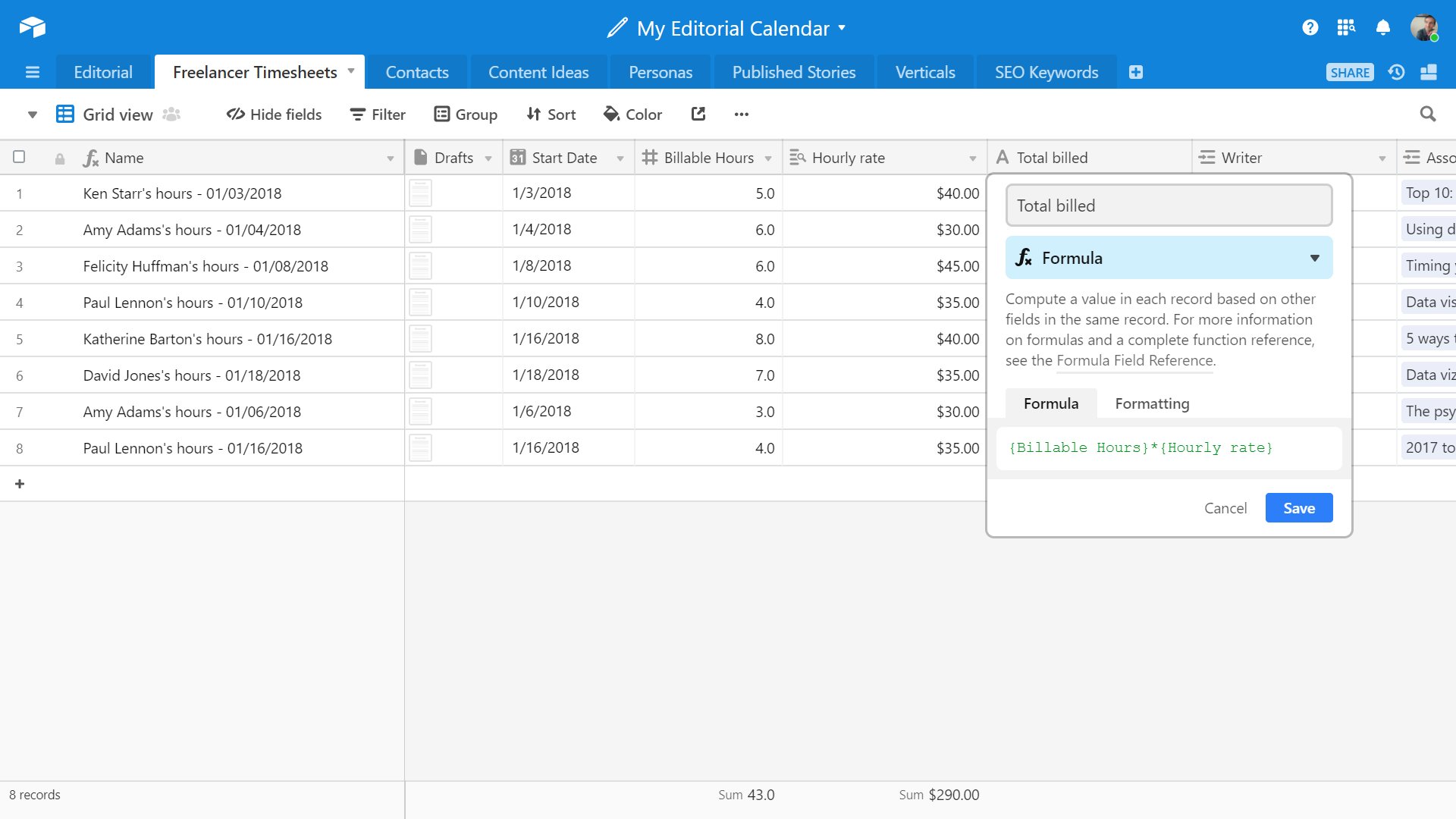 In a deadline-oriented business, it's worthwhile to see exactly when you last communicated with your contacts. Rollup fields make it easy to keep track of individual interactions with freelancers by summarizing data from records we have linked to a table.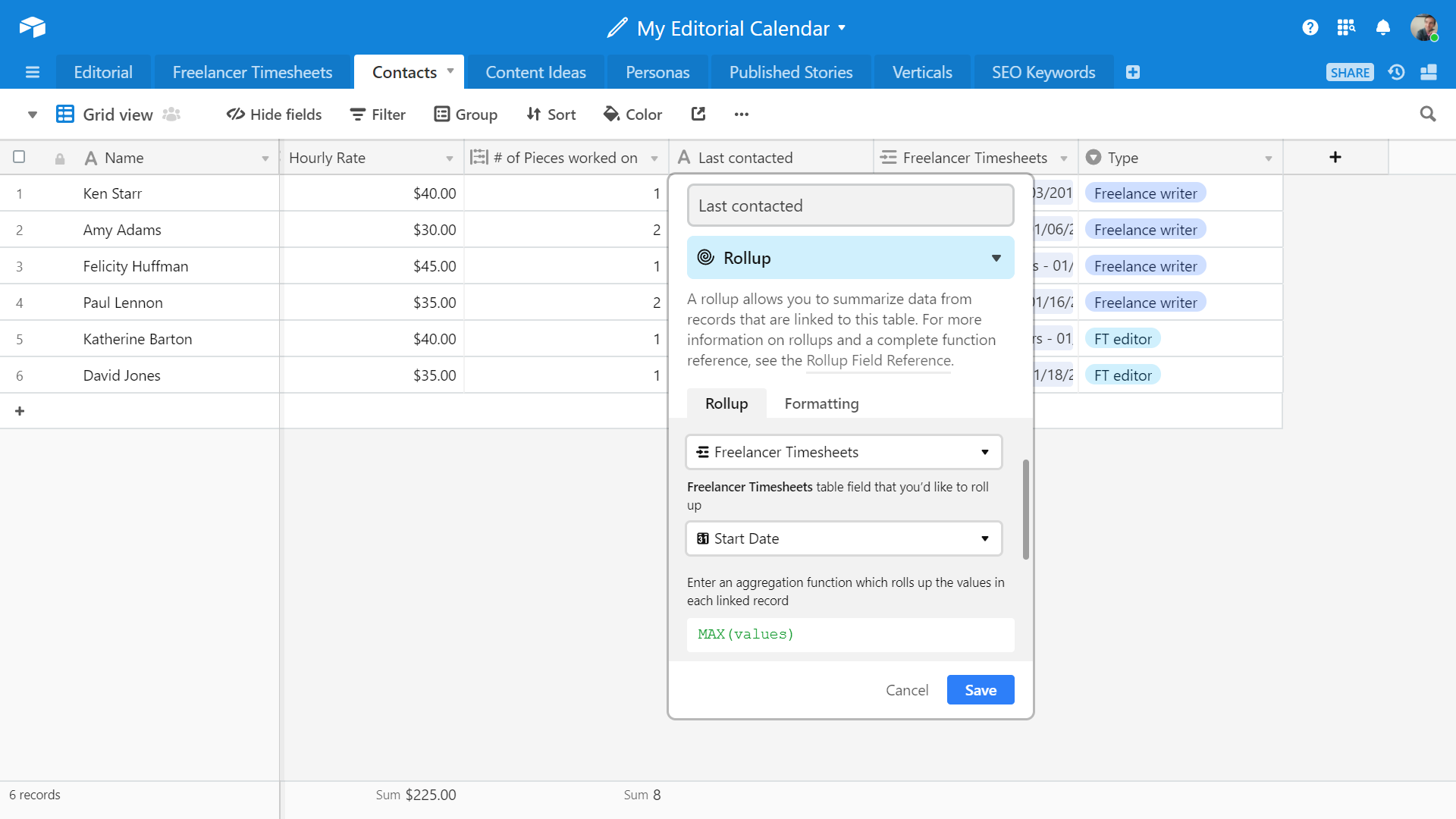 Formula fields are extremely flexible—you can use one to automate follow-up notifications for your freelancers, saving yourself another calendar reminder.

These are just a few of the ways that contacts and interactions tables can add depth and maximize the reach of your editorial calendar. Spending excess energy tracking your freelancers' workload is a thing of the past—everything you need to orchestrate the delivery of great content on deadline is available in one source, at your fingertips.