Krista Wanderman shares her experience using Airtable.
From a field trip in the Smoky Mountains.
"We wanted to customize the learning experiences for our children around the things that are most important to our family," says Krista Wanderman, home educator and mother of two. "Homeschooling also offered the flexibility to arrange our schedule," she adds.
"We started our oldest daughter in a more traditional classroom," explains Krista. "But when we moved four years ago [from Tennessee], we wanted to give homeschooling a try. We've been very pleased with the results."
As Krista began exploring the lesson planners available specifically for home educators, she soon realized that the options were costly and inflexible. Teaching to both a 5th grader and a kindergartener, Krista needed a system to organize each child's curriculum and assignments separately. She needed a database that was adaptable to her unique case as a teacher.
"Systems like Homeschool Planet or Homeschool Helper App are great, but weren't as customizable as I wanted them," Krista says. "At one point, I even thought about working off an Excel spreadsheet."
But she didn't get that chance. In August, Krista came across Airtable. "After playing around with it for about an hour, I knew I wanted to use this product," she says.
After playing around with it for about an hour, I knew I wanted to use this product.
"Our community has a wealth of resources and opportunities for homeschooled students," says Krista. "But keeping it all organized is a challenge!"
Recognizing an opportunity to help other home educators, Krista reached out to Airtable, hoping to share her database with others in the community. "I thought some of my friends might find Airtable useful," she says.
Krista created a basic planner for record-keeping and organizing lessons. Among other features, her base includes fields for uploading lesson plans, assignments, and worksheets; a table listing textbooks that correspond with specific lessons; and a table for tracking attendance and grades.
Krista structured a database to meet her needs as a mother and educator — and it works for her. "Most home educators do their own thing," says Krista. "So a tool that allows flexibility and customization is really helpful."
"I need to be able to work on my mobile devices," explains Krista. "Sometimes curriculum ideas pop up unexpectedly, like when I'm browsing educational blogs and websites. I have to document them immediately on my phone or other devices."
In just seconds, Krista searches for lesson plans, books, and assignments using specified filters, such as date or subject. With Zapier's integrations, she's also able to sync her Evernote, Dropbox, and Google Drive accounts in real-time with her records.
"Actually, databases are my secret hobby," says Krista. "I feel out of practice now with the kids, but in my professional life I managed many databases."
Time is an especially valuable asset for this busy mother and educator. By organizing her teaching materials and lessons more effectively, Krista gets more time to spend with her family and on activities she enjoys.
"We strive to put our faith and service to others first, we travel when we have the opportunity, we follow interests and curiosities where they take us, and we have the freedom to adapt our teaching style to the ways our children learn best," Krista says.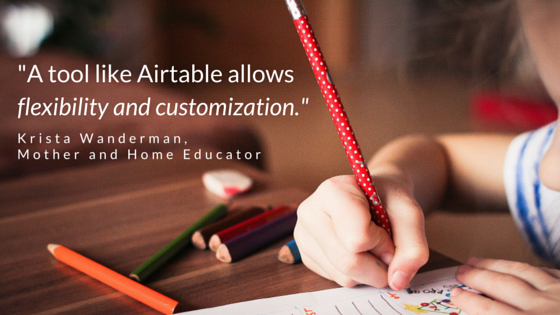 Airtable: Organize anything you can imagine.
Airtable works like a spreadsheet but gives you the power of a database to organize anything. Sign up for free.