Transform workflows with AI, verify critical data, and get started with preconfigured apps.
Today's organizations are facing new and more demanding challenges than they have for years. The uncertain economic climate is pushing organizations to do more with less, and the recent breakthroughs in generative AI promise transformational change and acceleration for how businesses operate. Leaders are looking at their technology to help drive them to the next stage of growth with maximum efficiency and agility.
However, very few tools can help organizations keep up with these demands. Software is often stubborn, inflexible, and disjointed, making it difficult for teams to move quickly, scale, and remain agile as things continue to evolve.
That's where Airtable comes in. We believe today's knowledge work needs a customizable platform that lets every organization easily build intuitive, AI-powered apps to drive their most important business processes.

Today, we're bringing AI to Airtable, making Airtable the easiest and fastest way to deploy AI-powered applications across the enterprise. We're also releasing new features to empower teams to get up and running and build powerful apps quickly with a suite of pre-built applications for marketing and product teams. These apps will be built on a system of shared data, while enabling both central governance and local agility with the launch of verified data and two-way sync, so teams can get products to market faster, better, and cheaper.
Put the transformational power of AI directly in your teams' hands
AI is projected to fuel a massive acceleration in the economy, increasing annual GDP by $7 trillion and lifting productivity growth by 1.5% over the next decade, according to research from Goldman Sachs. But, as companies try and figure out how they will leverage this innovation, they'll face a whole new set of challenges in deploying AI across the workforce and helping their teams take advantage of AI's power.
Airtable makes it simple for any team to implement AI across their workflows. Requiring no coding or AI expertise, your teams can leverage AI to accelerate their workflows, directly within their Airtable apps. They can use pre-built components, templates, and prompts to experiment, easily customize, and find what works best.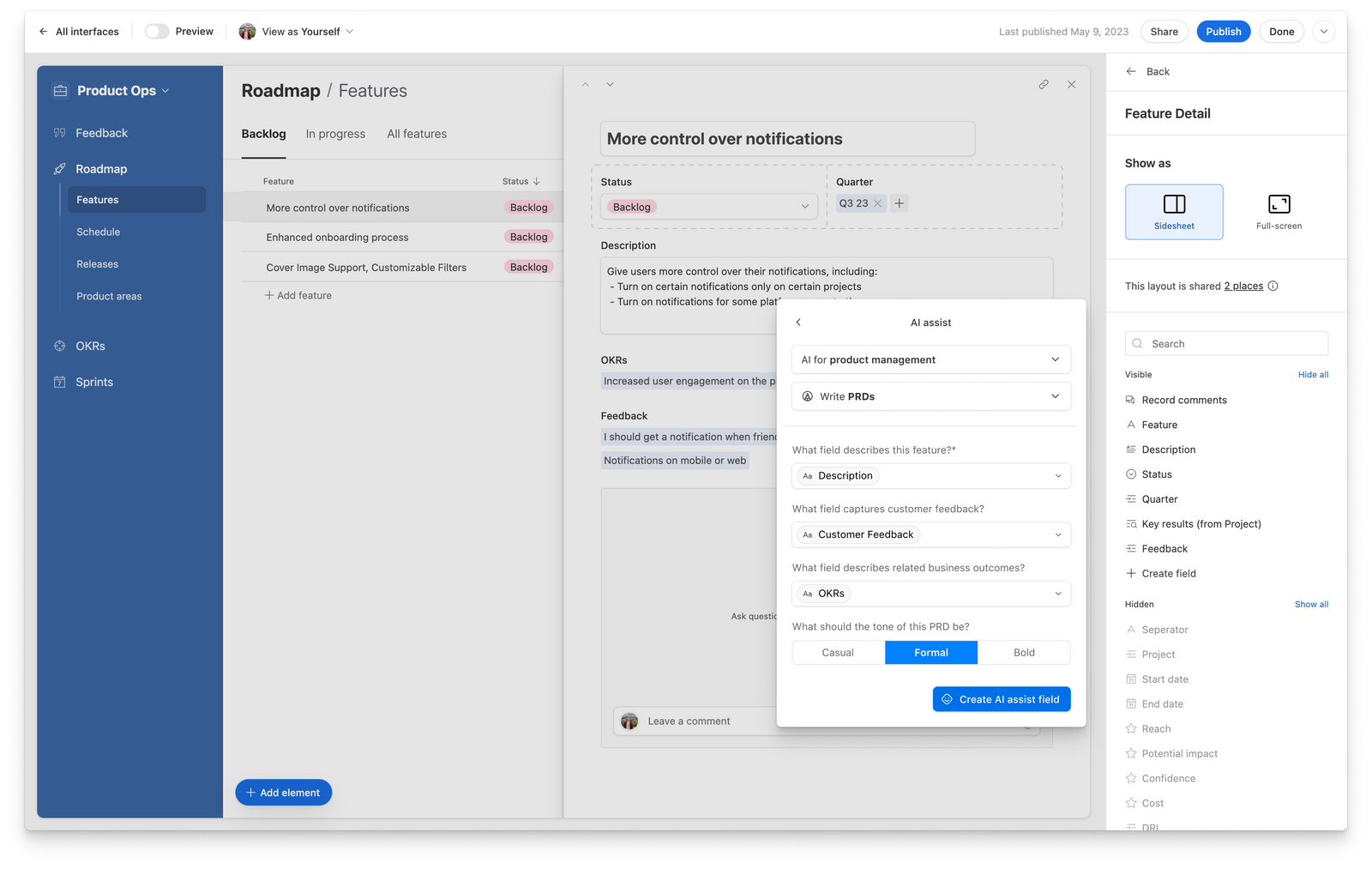 Integrating AI into workflows in Airtable can speed up hours-long processes to mere seconds.  Product teams can add an AI component to their roadmap app to instantly generate a product spec. Marketing teams can connect an AI component to their requests app that will write thoughtful, thorough creative briefs that speed up the marketing creative handoff. And HR teams will be able to automatically generate job descriptions for any of their open roles simply by adding an AI component to their hiring pipeline app.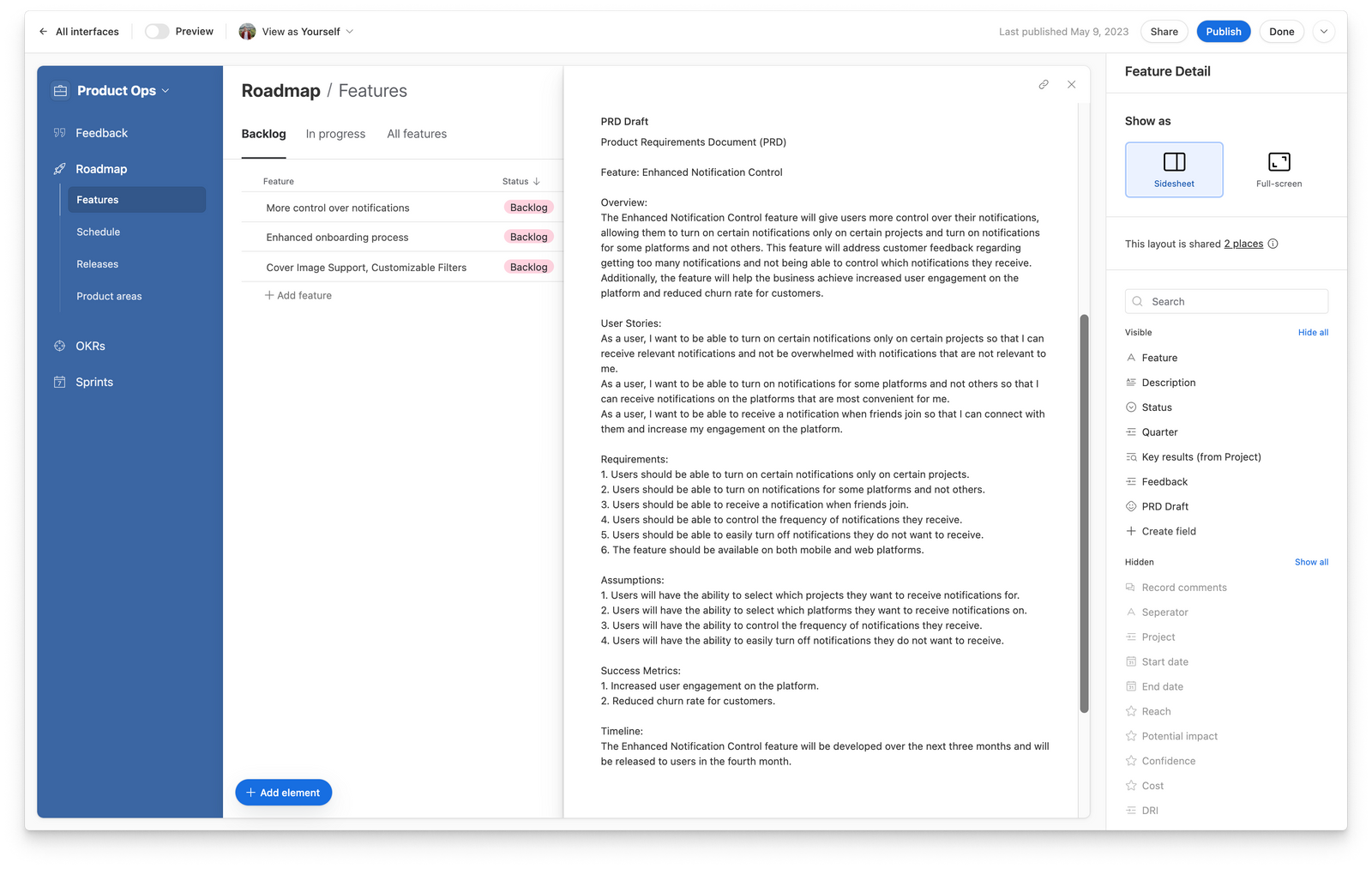 With Airtable AI, you're not limited to a specific AI action, but instead, you can chain together multiple AI steps within one workflow. For example, product teams can use AI components to automatically categorize feedback that comes in from their customers based on sentiment and product area the feedback relates to. Once that step is completed, they can use AI to automatically craft a response to the feedback to close the loop with the customer. These AI steps build off of one another to create exponentially more power as they are added together.
With AI inserted directly into the workflows, the possibilities are endless. Airtable AI will be released with limited availability early this summer, followed by a broader rollout later this year. If you're interested in joining this waitlist for Airtable AI, please fill out this form.
Accelerate time to value with preconfigured apps

Thousands of enterprise organizations have built apps in Airtable to help manage their most critical business processes. Over the last decade, we've seen what the best, most effective apps—and the teams that use them—all have in common.
Today, we're releasing Apps by Airtable, 10 preconfigured, customizable applications for marketing and product teams that have been built from these industry best practices. These apps will help your teams get started in Airtable faster than ever so they can produce results more quickly and drive outcomes for your organization.  And best of all, they're designed to be used together and can be tailored to fit the highly specific needs of highly specific teams.
Apps by Airtable can help marketing teams manage their end-to-end processes and deliver efficient, high-ROI content and campaigns. The six Apps help them plan campaigns, manage requests, track budgets, coordinate calendars, oversee production, and manage assets.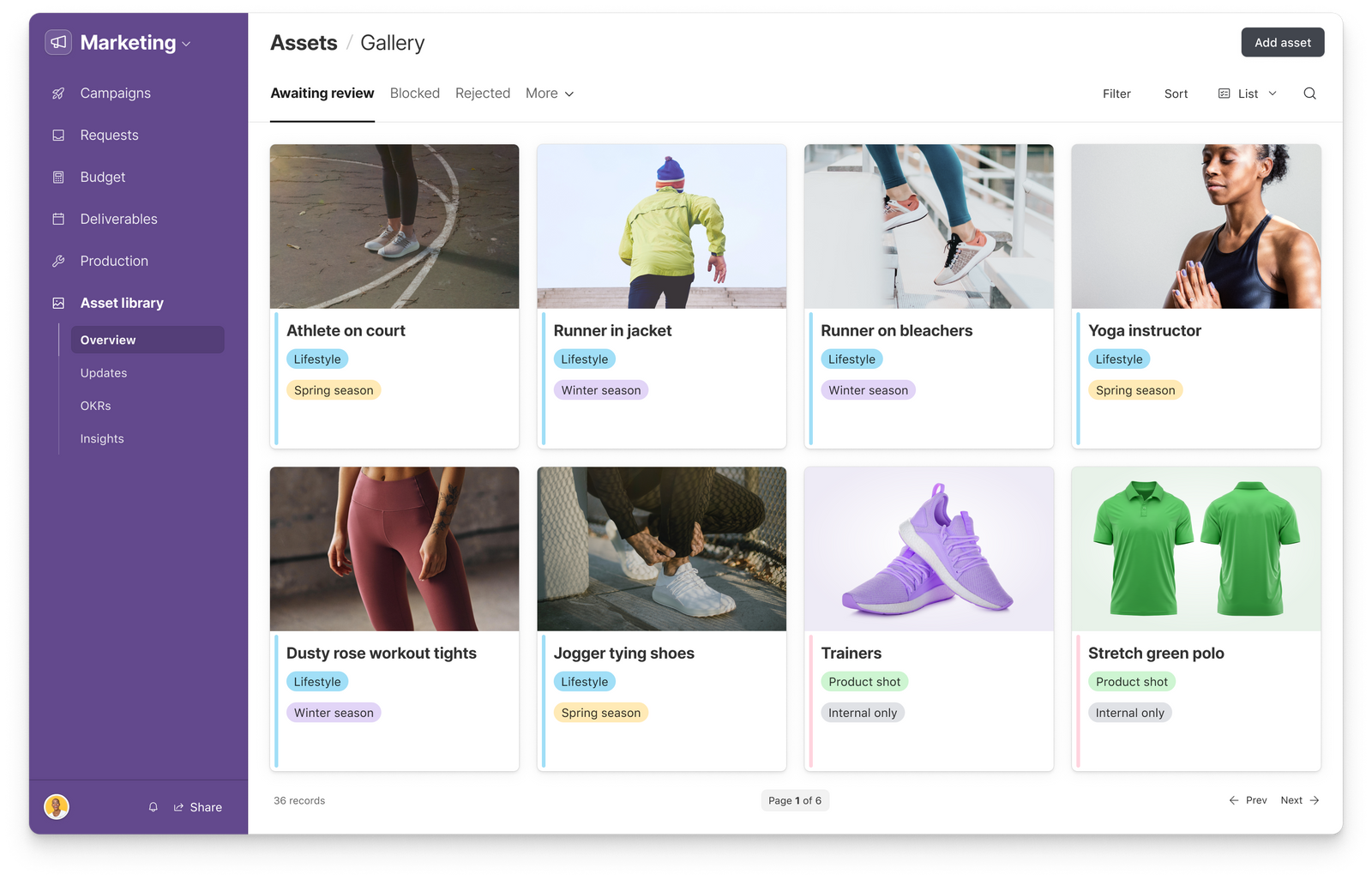 Product teams can use Apps by Airtable to deliver high-impact, customer-centric products. The four Apps will help them collect product feedback, set and track goals, manage their roadmap and plan their sprint schedule.
Apps by Airtable are available on our Enterprise plan. Learn more about these apps and request a demo here.

Want to build apps for more than just product or marketing use cases? Not to worry. New improvements to Interface Designer will help you build engaging experiences for users. The new left navigation panel will help users navigate between the interfaces they have access to. Now your team can easily and seamlessly switch between their related interfaces all from one place.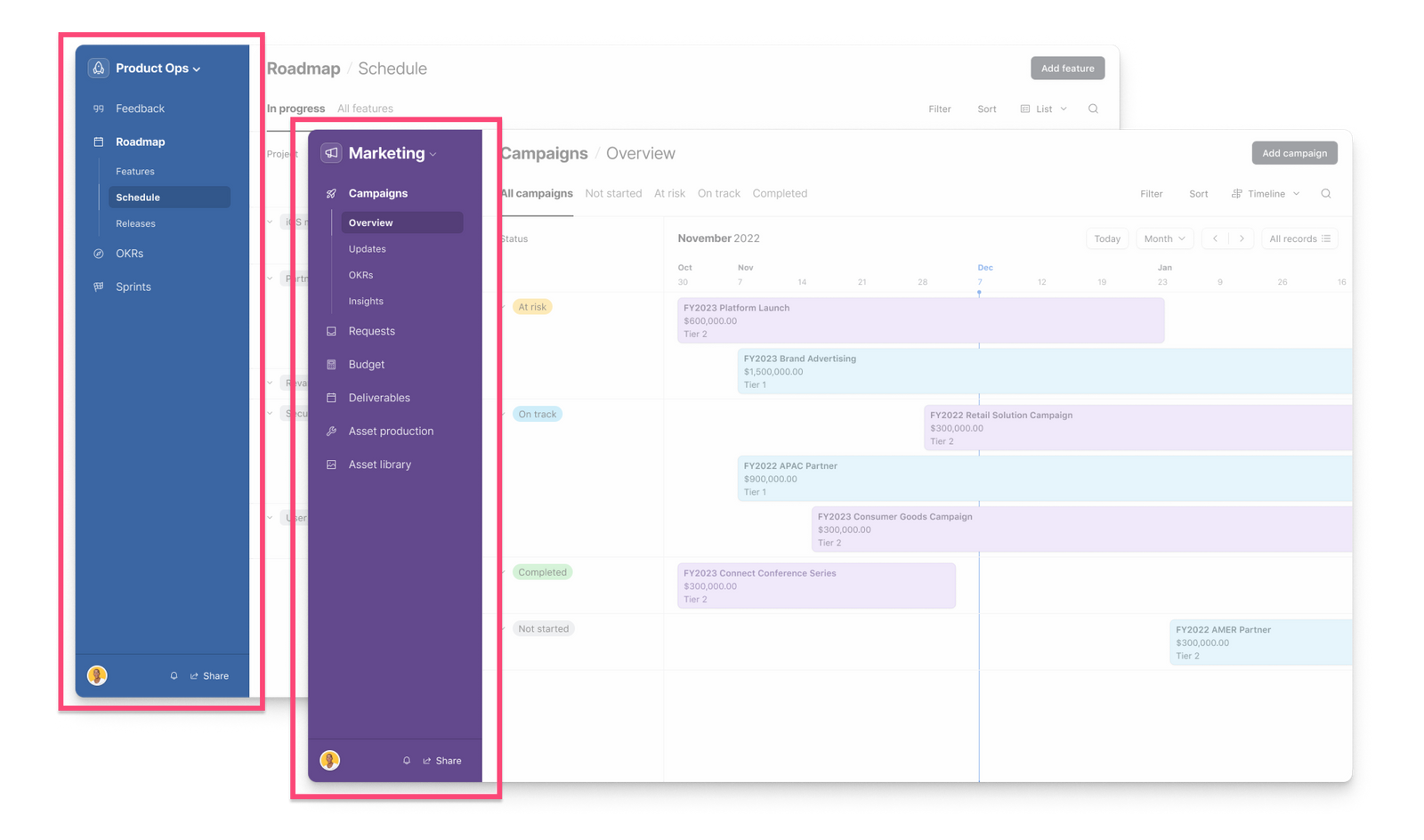 Learn more about how to build apps in Interface Designer.  
The left navigation panel is available on all plans and will be rolling out over the next week.
Empower teams without sacrificing control with verified data

Every organization must strike the delicate balance of central governance of critical data, with the access and visibility the teams need to remain agile. With verified data, your organization can centrally manage and protect the data most critical to your team's workflows, like product SKUs or org charts, while also making it accessible and usable across the organization. You can empower teams to quickly build and connect the right workflows to this trusted data, scaling and extending the power of this data across the organization.
As your teams bring information into Airtable, they can publish it to a data library to ensure that it's accessible to other team members to use. If it's sensitive data—say customer information or future products—you can limit visibility to a particular user group.
While each of your teams is empowered to publish their data, only admins have control over which sets of published data should be verified across the organization. Once they've verified a data set, it is pinned at the top of the data library, ensuring teams can easily access this data to build the apps they need.
And admins can easily manage permissions and access to these data sets right in the admin panel.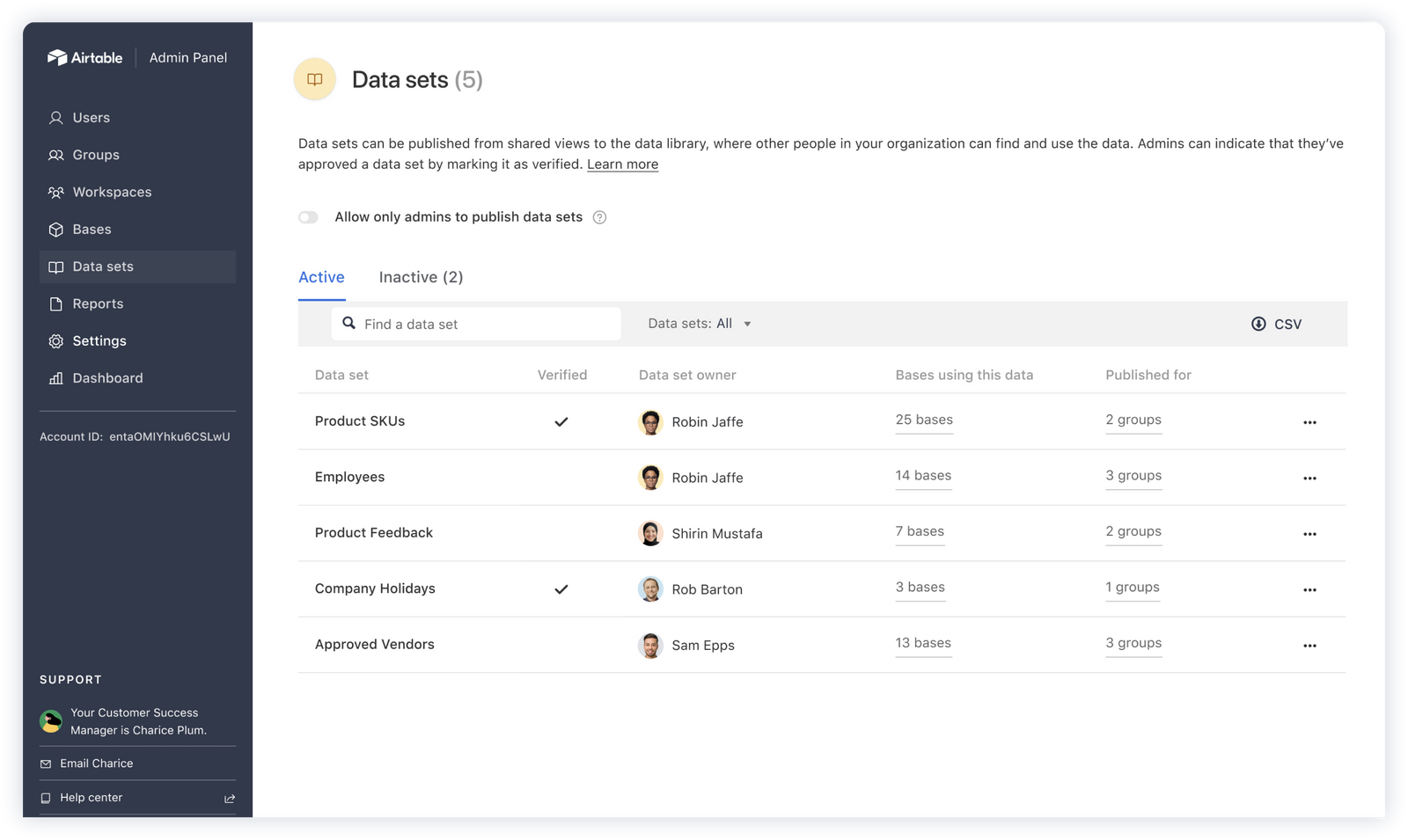 Verified data lets IT and central teams minimize risk by carefully managing access to critical company data, while helping teams feel confident and move faster knowing they're building off accurate information.
Verified data is available on Enterprise plans, starting today.
Keep teams in sync, at all times

Teams don't work in isolation. Their data and work is connected to other departments across the organization and their workflows require information from many other teams.

With two-way sync, your teams don't need to worry about where the data lives or whether it is the most recent version. A change in either base or interface will update automatically in the other synced base (and it works on mobile too!).
There are so many ways to take advantage of two-way sync. You can set it up so content and social teams can co-manage production timelines, product and marketing teams can co-plan their launch calendar, or across your photography and web teams making updates to their product catalog. And sync updates will happen in real-time, so a change in one workflow is immediately reflected in the other, making it even easier for teams to access the most current data. Everyone can feel confident that they have the latest and greatest data powering their work.
Two-way sync has allowed us to connect information across different stakeholders and collaborate more effectively. This has made our workflows much more seamless and allowed us to move much faster as an org to deliver results.
Two-way sync is available on Enterprise plans and will be rolling out this week.
Get a leg up as you get set up
Airtable is transforming how teams and whole organizations work, every single day. For organizations looking for extra support as they deploy and roll out Airtable across their teams, we are excited to announce the Airtable Services Partner program — an ecosystem of trusted, accredited partners who will help you get the most out of Airtable. With relevant industry expertise and deep product knowledge, our partners will work with you to help build and customize any and all apps you need.

Learn more about our Partner Program, including Cprime, Alegria.group, Think Company, LeapPoint, InAir Studio, Qvest, and more.