A global add button, grouping suggestions, and more–building in Airtable is simpler with these updates.
Working with complex data sets is just that–complex. But in Airtable, visualizing data just takes a few clicks (and little-to-no code), making it a flexible platform that anyone can use.
And with your feedback in mind, here are some base tweaks and improvements to make your workflows even more accessible and simple.
Build your base from one button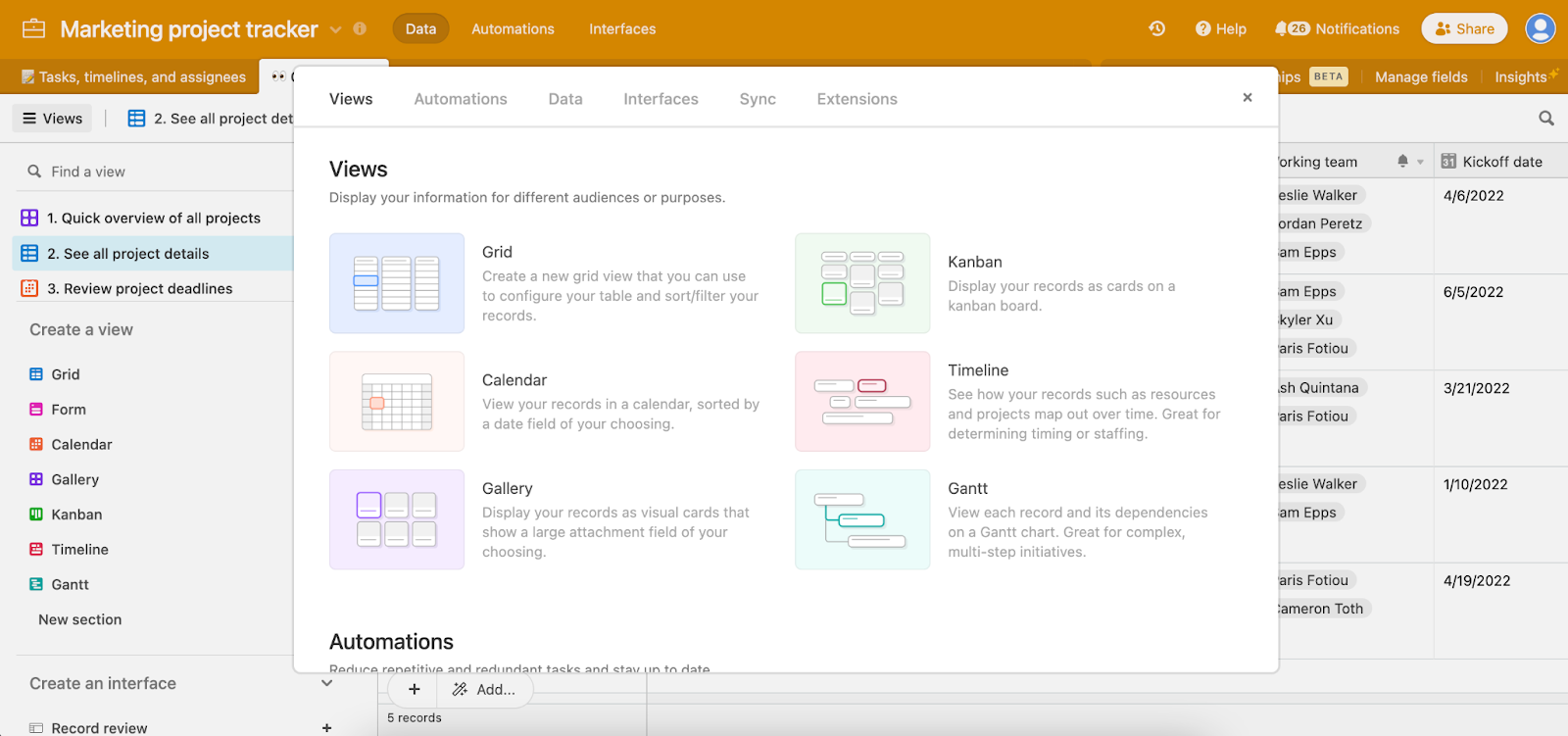 With the shiny new "Add more" button, one click is all it takes to create a new calendar view, automate your work, or add an extension to your dashboard.
You'll find this new button at the bottom-left corner of your base screen, which allows you to add all kinds of Airtable features to your base in record time, including:
Views
Automations
Data
Interfaces
Sync
Extensions
Now you can give your base some visual oomph with a chart extension, or integrate your work by syncing your Google Calendar–and do it all from one, easy-to-find place.
Upload multiple attachments easily
Another update to help speed things up: upload multiple photos and videos to an attachment field at the same time.
Paste these images directly into the attachment field with a simple control+V/command+V. Add the files you need in one go and move on!
Draw inspiration from group suggestions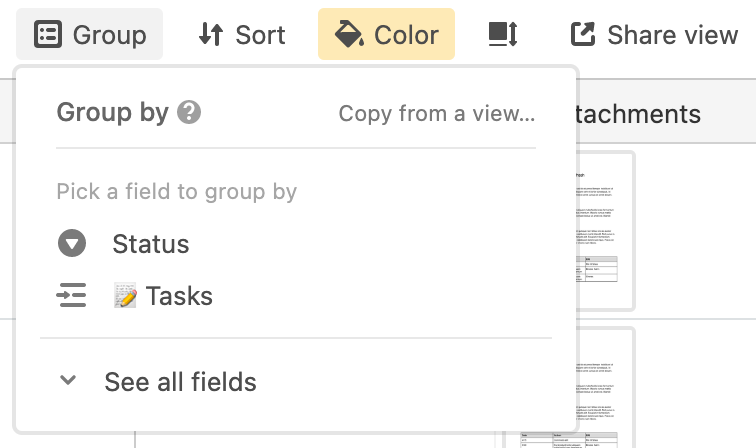 The group function is handy for organizing your records in a way that you (and others) can understand. For instance, grouping all of your tasks by owner helps team members to spot all of their assignments in one place.
Not sure where to start? Don't worry. Now when you click the "group" button, you'll see suggestions for possible fields to group by. You can also now group and sort faster than before by choosing from the lists of available fields.
Experiment with different groupings and sortings–and make faster, more informed decisions in your base.
Quickly add yourself as a collaborator
Adding yourself to a record as a project owner, or campaign driver?
When you click on the collaborator field, the current user (aka: you!) will now appear at the top of the list, so you can quickly assign yourself projects and tasks. No more scrolling through a long list of colleagues to find your name.
…and a ton more
And that's not all that's new. Here's a bunch of other updates to make working in Airtable smoother and more straightforward:
Search for specific fields in grid view
Use field IDs when configuring form URL share links
Open automation actions with a right-click
Easily locate field IDs in the field manager
Improved collaborator autocomplete when typing comments on a record
Filter linked record IDs so you can sort by linked records (like "quarter" or "project")
Control-click/command-click a table to open it in a new tab
Check off completed records with a new "x" icon in the checkbox field
See more accurate error messages after uploading videos so you can take action
Like what you see? Good news: there's more on the way. 👍
Be sure to keep an eye on our blog (and your inbox!) for additional features to help you build faster than ever in Airtable.
These features are available for all users with Airtable accounts! Just log in (or sign up) to check them out.