TBD Angels is now one of the country's fastest-growing investment groups; a founder spun off a brand new platform.
Appropriately, their name was TBD. Were they an investment group? Yes, but not a formal one, not at first. They were just friends who traded notes about cool companies they should watch and support around Boston.
At a pizza lunch in early 2020, six of those friends decided—even in the midst of a pandemic-related downturn—that organizing their own angel investment group was important.
Whereas traditional angel and venture capital models focus on returns, the Boston crew felt their hands-on advice could be just as important as capital to early-stage companies. They also wanted to make gender diversity front and center in the group, turning the tables on the VC world, long a notorious boys' club.
Low overhead and lean administration were critical too, as many members were active operators in their own companies and not full-time investors. Out of these beliefs and intentions came TBD Angels, an investment group that ballooned from six members to 275 and uses Airtable as a key tool for managing deals and investments.
Helping angels get organized
In the early days of TBD Angels, the group was fairly low-tech. When it came to voting and investment commitments, they relied on email, text messages, and Slack polls.
One of TBD's six founders, Jason Burke, knew the group needed more structure in order to scale. While Burke is a former software developer and startup product lead, the majority of the leadership team was operationally-focused and did not have technical backgrounds.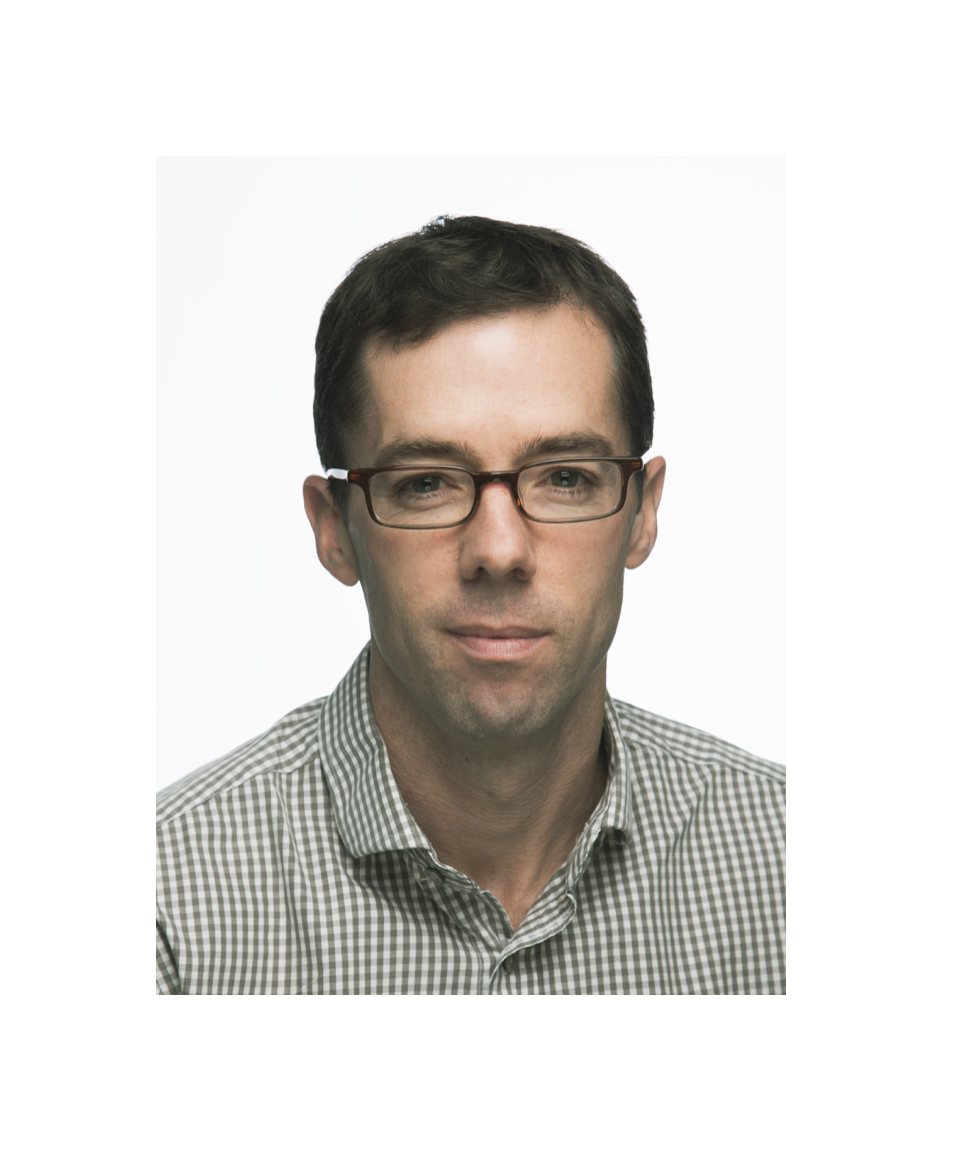 Several on the team had used Airtable in previous lives, and they noticed other investment groups using Airtable as a simple CRM. As TBD grew, they needed functionality and engagement that was built for investing—like the ability to tally user votes and capture funding commitments.
They were also adding new members and deals daily, so the group needed to move fast. Using Airtable as a database let Burke build an investment-specific product at an accelerated pace.
"Airtable was the best of both worlds," says Burke. "Non-technical users could see what they needed, and I could basically build a product on top of it."
Spinning off a new entity, All Stage
Burke set to work building a product that's now called All Stage—a platform for managing deals, enabling voting, showing due diligence, and serving up other information for investment groups. All Stage uses APIs to pull from information held in Airtable.
To support his own investment group, he built features that show, for example, a top-line summary of each prospective company's information, along with the ways in which TBD Angel members have engaged with the deal.
The All Stage platform is now used by numerous investment groups and founders in the early-stage investment ecosystem.
Burke also created a field in Airtable where the product could show certain deal attributes that the investment group might find important: Does the company have a female founder? Or LBGTQ founders? Have the founders run other successful ventures? How much money have they raised in the past?
Airtable made it easy to display these attributes for each deal, and for investors to search for and view deals with only those attributes. A TBD member is interested in funding women-led firms? He or she can filter for just those startups.  
TBD Angels also used Airtable to create custom views to evaluate the health of its group, extracting metrics for member meetings and managing membership payment status.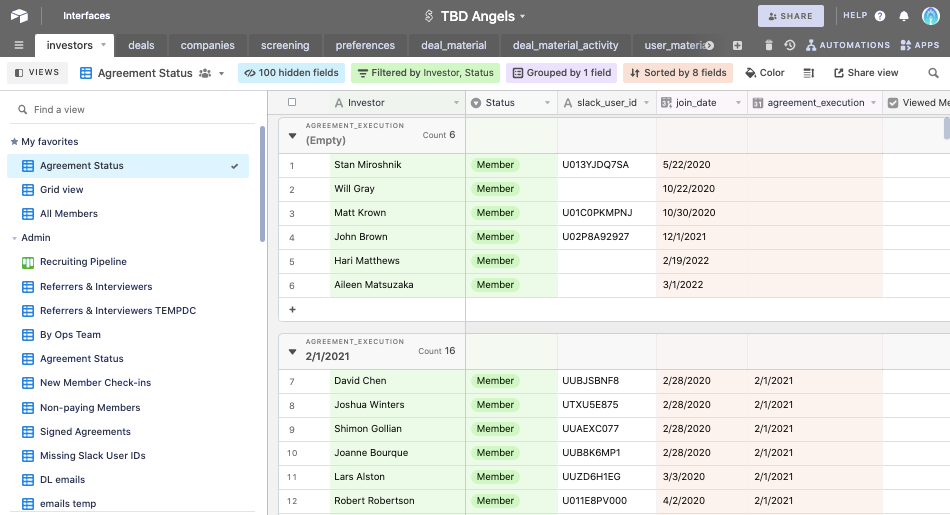 At any stage in a startup's funding process, Burke used Airtable to show all members who had committed how much cash to invest in the deal.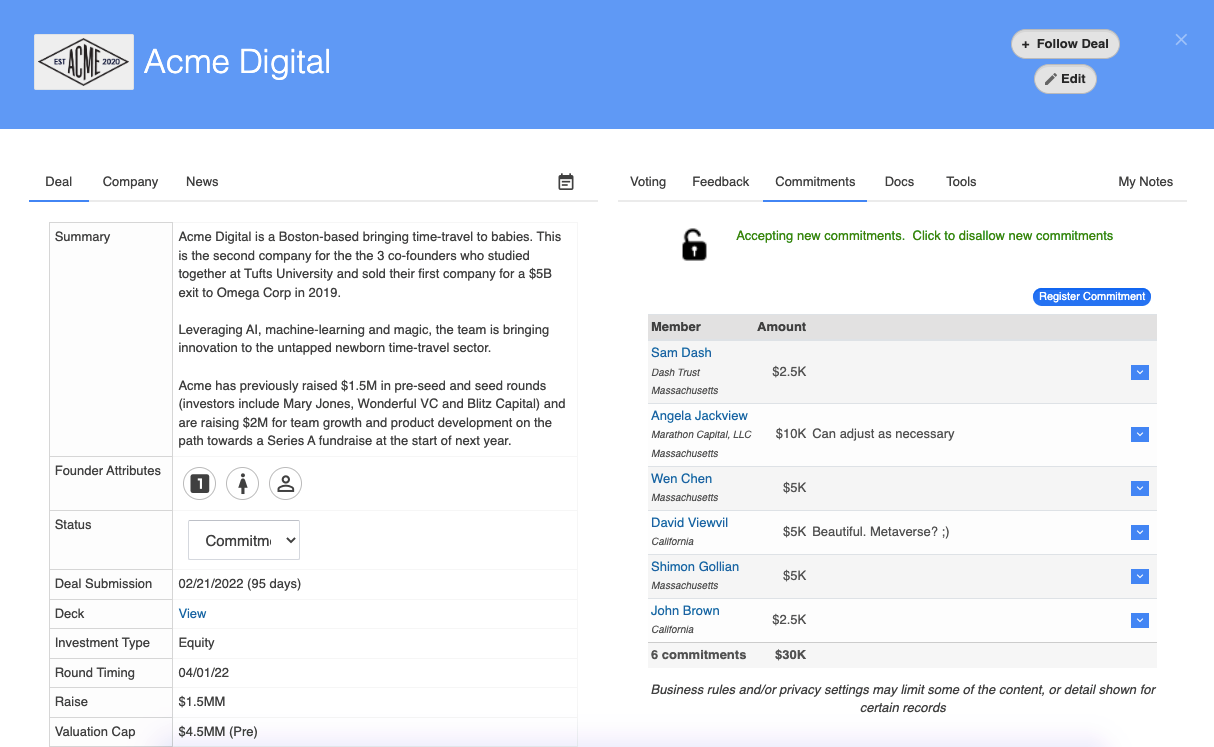 When a TBD member brings in a new deal and is dubbed the lead on that deal, his software lets them use Airtable form to automatically book a pitch meeting between startup founders and any TBD member who's expressed interest.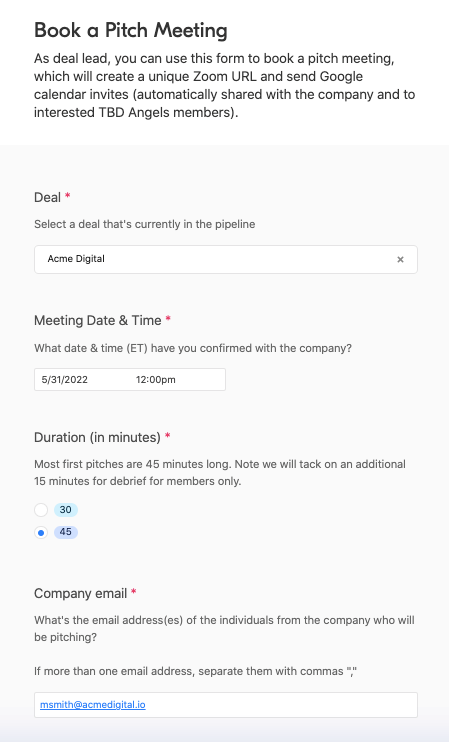 According to Burke, TBD's various Airtable automations have eliminated the need for the kind of administrative staff that big venture capital firms usually hire, and it lets TBD Angels act on new opportunities quickly. The group has members in 26 states and has made more than 65 investments since 2020.
An Airtable-powered investment platform
Burke is now marketing All Stage to other investment groups that might struggle with the same issues TBD Angels did. His software lets investors manage privacy controls, review investment holdings in a dashboard, and see how their deal stats are changing over time.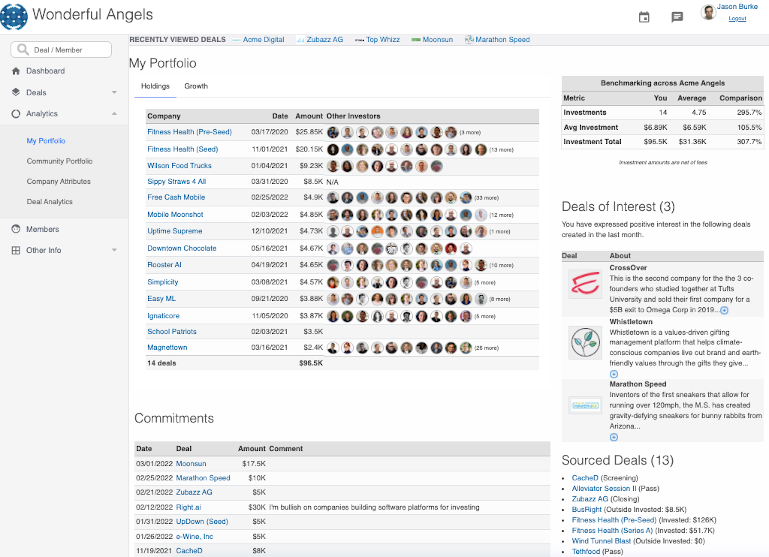 Using Airtable as a database "offloaded much of the technical work that a nascent product would have required," says Burke. In the past, building a platform like All Stage would have required months of foresight and planning on the part of a product team.
Instead, he was able to build the patent-pending product and Airtable integrations himself. "Without Airtable, this couldn't have become a mature product as quickly," he says.
All hands on the pitch deck
Burke also believes Airtable's flexibility is one of the contributing reasons why his angel group is one of the fastest-growing in the U.S. His colleagues spread the word about TBD Angels, and their respective networks piled in.
Airtable and All Stage allowed the group to scale and helped eliminate the intimidation factor that has often come with investment.
"It removed the friction for a 200-plus member group," he says.  

Burke's tips for building with Airtable

Looking to start your own investment group or design your own investment tools? Here are entrepreneur Jason Burke's tips for getting started.

Learn from those who came before you.
Airtable has a solid developer community and documentation. The Airtable team is very responsive and developers who have built products using Airtable are collaborative. Take from the community when you need help and contribute where you can assist others. As a collaborative community, everyone will benefit.

2. Strike a balance between what you're building and Airtable's features.
Airtable's APIs, forms, templates, and customizable views give users the flexibility to extract data and analytics in repeatable and ad hoc fashions. Focus your own product on innovations around purpose-built functionality related to its core vision, leveraging Airtable as the database.

3. Explore the marketplace of integration partners.
There are many integrations with Airtable. Take advantage of these integrations to expand the ways in which your product can realize incremental features and provide more value to your users or customers.
Check out Airtable's templates for investing—including ways to manage deal flow, portfolio companies, and a lightweight CRM for startup founders.