How Jimmy Daly of Quickbooks manages a high-velocity, global content team.
Cover image credit: Curtis MacNewton.
As the sole editor of the QuickBooks Resource Center, Jimmy Daly needs to manage 4,000 pieces of content and fifteen writers across three time zones. He's in charge of coordinating efforts around the production every piece of content that goes up on the blog — in addition to strategizing, coming up with ideas, and editing.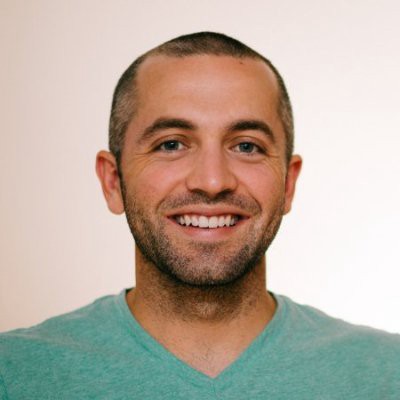 Jimmy's challenge is to split his time between what Paul Graham calls the "maker's schedule" and the "manager's schedule." He needs hours of uninterrupted time to edit, but also short spans of time to check in with co-workers and contributors to move articles along the pipeline. To juggle this schedule, Jimmy needed a time-efficient way to stay on top of all the moving parts.
After experimenting with a few different tools, he settled on Airtable for running his editorial calendar. He set up a database of content, contributors, and tasks that he made accessible to all relevant stakeholders through different views. Each party can get all the context they need at a glance — while he has the time to run the entire content calendar, edit every piece, and even write a few of his own on any given week.
We sat down with Jimmy to learn about how he set up an editorial calendar to optimize how he spends his time.
---
A master view for faster ideation
Ideation is one of the most important steps to creating great content. As an editor, Jimmy has to accomplish two things:
Identify gaps in the existing content.

Come up with creative angles that hook readers while providing practical advice.
Jimmy set up a view in Airtable to save time on the former, so he could dedicate his time to the latter.
At QuickBooks, the objective of the blog is top-of-funnel acquisition. They have four primary use-cases for QuickBooks—as an accounting tool, a payroll tool, an invoicing tool, and a payment tool — so their content has to address the pain points of small business owners in these particular categories.
But typically, finding gaps in the content means digging through existing docs and re-visiting every article that has been published, hoping for a eureka moment. Jimmy created a "Master" view to give him all the context he needs, without any of the extra irrelevant details.
The Master is a grid view that includes every piece of content in all stages of production — from ideation to finished product. Each record includes a description, a link to a draft in Google Docs, a link to the published piece, notes and other details in reverse chronological order. A quick glance will jog his memory on all the recent content that has been published, so he can better identify gaps and potential content opportunities.

A filter on this view can help him look through pieces on certain subjects. He can create a filter for pieces with the word "payroll" either in the title or the description, for instance, to get a sense of how much ground they've covered on that topic.
If he wants to find specific articles to come up with spin-off ideas, he can also use the search bar in the right-hand corner to search every article his team has ever written.
Jimmy told us that the primary challenge is "juggling what content we already have on all these different topics. We need to find where we have holes that we really need to plug to make sure we're addressing all the possible entry points for new customers." The Master view gives Jimmy a quick overview of what's in the works, so he can spend less time digging for information and more time lining up creative content ideas.
A pipeline overview for identifying bottlenecks
There's a lot of behind-the-scenes work that goes into every piece of content on the QuickBooks blog. Each article has to go through roughly the same process:
the editor spots an opportunity for content

the SEO strategist decides on keywords

the editor comes up with a pitch and interesting angle

the writer writes the piece

the editor revises

the designer creates an image

the SEO strategist optimizes for search

the editor publishes the piece
This lengthy process means that Jimmy has to keep track of anywhere between 25 and 40 articles in various stages of completion. Without one place to keep track of it all, it'd be impossible for him to know how to best dedicate his time — ideating, editing, writing, or publishing.
For a broad overview of what's in the works, he created a kanban view, splitting up the process into stages:

Each card represents an article, and each stack represents a stage in the workflow. As work is submitted and projects are passed on to the next collaborators, the article cards move from left to right.
Each individual card serves as a single source of truth for all the collaborators involved. It has a title, a writer, two checkboxes for SEO and art, a due date, and, eventually, links to the published piece. If Jimmy wants to check on the status of a piece, he @mentions the collaborator who's responsible at that stage of the pipeline.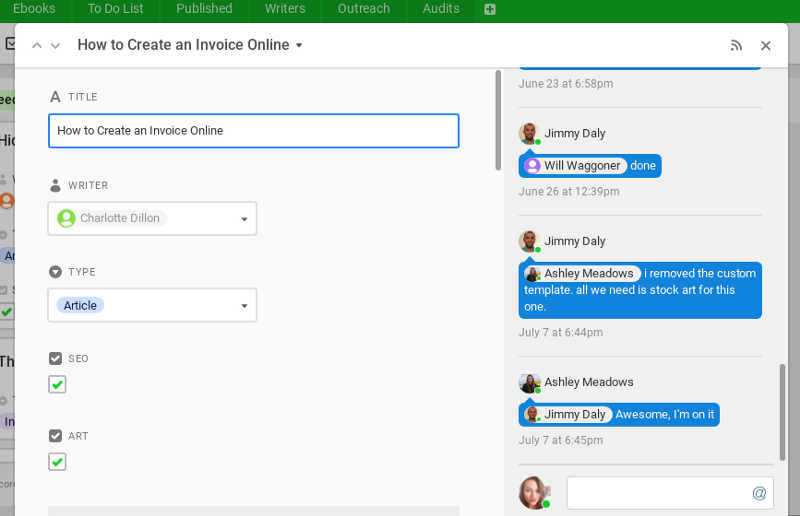 This kanban view serves as an editorial dashboard, where Jimmy can quickly see the status of every project that's being worked on.
Jimmy told us, "I think of myself as an editorial project manager. Stuff is always coming in and stuff is always going out, but a lot of it goes through me. Really, I'm just trying to keep everything moving." Knowing how many projects are in which stages makes it easier for Jimmy to identify where he's needed the most and better prioritize his responsibilities.
Automation for more efficient communication
The team that works on the QuickBooks Resource Center is a mix of internal and external parties, spread out across the country. The editor, a team of freelancers, and an SEO strategist all sit in different offices and work different hours. For every article to move along the pipeline, Jimmy needed to set up a system of asynchronous communication around the editorial calendar.
Jimmy rigged up Zapier — a tool that is used to connect apps — to automatically provide collaborators with everything they need to pick up a project. He has two types of Zaps set up:
A Zap that creates a Google Doc that links back to the Airtable card

Zaps that alert contributors via email once a project is ready for them to pick up
The first Zap is triggered when Jimmy moves a card from the "Brainstorming" column to the "Needs Writer" column. The record then appears on a separate view which triggers the Zap to create a new word document with the name and description of the article as well as a link to the Airtable view.

This saves Jimmy time setting up new writers. Once he assigns them, they already have a template to work with, linked in the Airtable card. Once they're finished with their draft, they can move it along the pipeline into the "For Revision" stack.
Once the document is moved to For Revision, another Zap sends an email to the editor to notify him that there is nowan additional item in his queue. The same happens once the editor is finished and moves the article to "Needs SEO/Images" — the SEO strategist and designer get email notifications about new projects for them to work on.

Through Zapier, Jimmy has every article moving towards completion on its own — without him having to monitor and remind each person about every assignment. He can save communication for edge-cases, when an article or an image is overdue, rather than waste his time pinging the same people, day after day.
How to stop running
When you're running an editorial calendar for over a dozen people, it can feel like running on a hamster wheel. The work never stops, and you're constantly jumping from one project to the next to make sure every piece makes its deadlines.
Jimmy set up a system that doesn't require his constant attention. Airtable serves as an editorial calendar that serves as a single source of truth for the whole team, but also compels each contributor to move a project along the pipeline without his supervision. So instead of trying to keep up, he can get ahead, and stay focused on creating great content ideas and publishing high-quality blogs on the Quickbooks Resource Center.