Zenbooth was founded in 2016 to solve a problem that's common in the open offices of fast-growing companies and coworking spaces: noise.
Open office plans can make for exciting, vibrant, and dynamic workplaces, but constant chatter and movement can also make getting your best work done a challenge—until you introduce a Zenbooth: a wood-paneled, well-ventilated, and modular office phone booth which completely insulates you from the sounds of typing keyboards or phone conversations outside. In doing so, you create a quiet space where people can escape to take their calls or seize uninterrupted focus time.
A Zenbooth is also a piece of functional art—an intentional departure from the steel and tile of most coworking spaces. Each Zenbooth is made partially from locally sourced wood, partially from recycled materials, and is assembled entirely in the United States.
"We're growing our company to provide people with an affordable solution to the distractions of the open office so they can be happy and more productive, in a way that's renewable, eco-friendly, and creates as low a footprint as possible," says Sam Johnson, Founder of Zenbooth.
Today, the company produces thousands of booths every year from their factory in Berkeley, California. They've delivered their booths to fast-growing companies like Lyft and Samsung. But as demand for their product has grown, so too has the complexity involved in planning and shipping their nearly 500-pound phone booths—a process for which they rely on Airtable.
Automating MRP (manufacturing resource planning) with Airtable
"We were using spreadsheets early on," Johnson says, "but each booth we build is made up of many unique components, which all need to be stocked in the right quantities. After we shipped about 30 booths, we needed a better way to manage our inventory closely, and track production through various stages."
They tested several out-of-the-box inventory management tools in the market and found that they were all designed for specific workflows—assembly lines, repair shops, custom fabrication. Zenbooth's manufacturing process didn't fit any of these categories, so instead of forcing their unique manufacturing processes to fit within the various tools out there or reverting to a spreadsheet, they used Airtable bases to model their exact production system—and in short time, the team was able to automate essential parts of their business.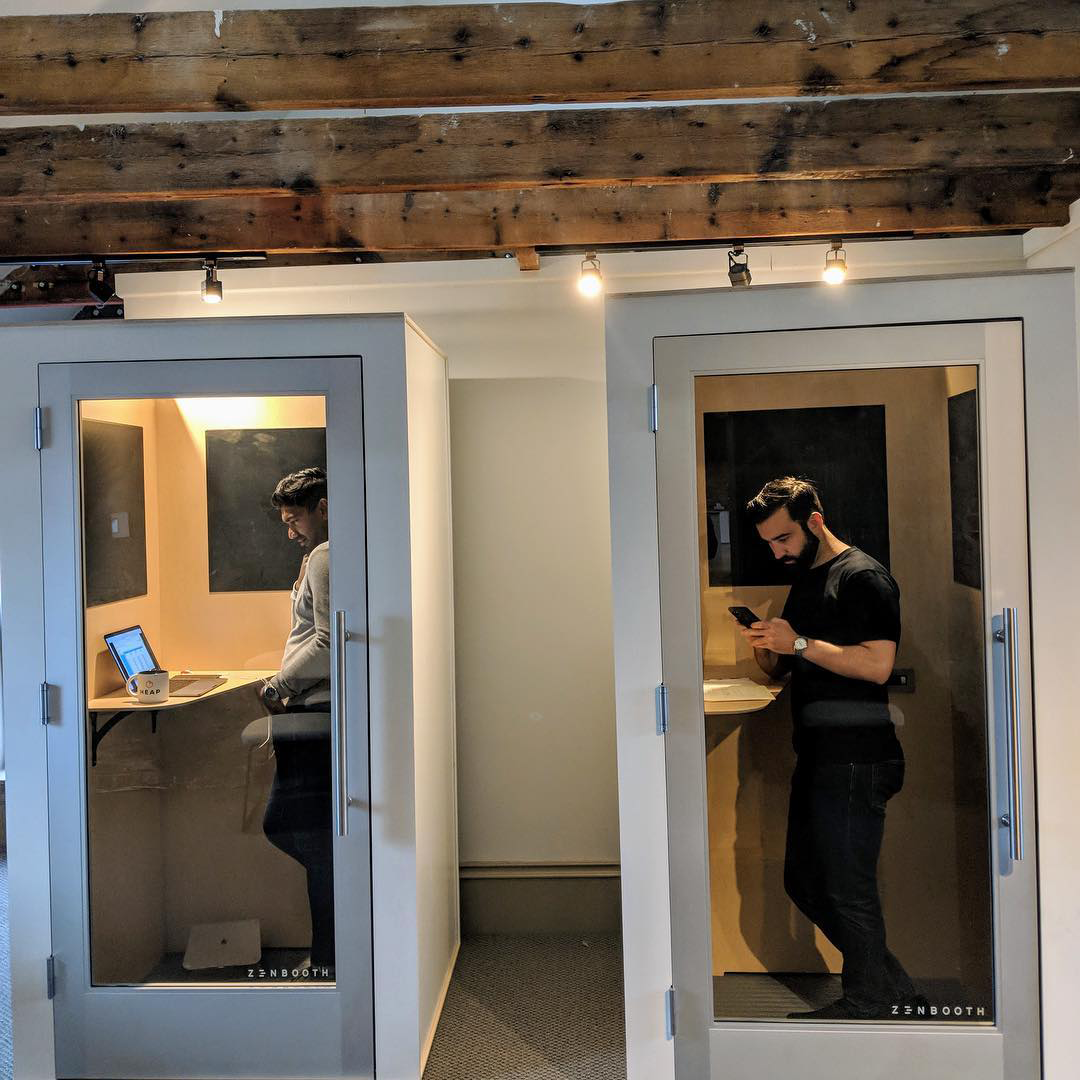 If we need to scale from making 10 booths a day to 20, we can just adjust our baseline in Airtable, and it recalculates all of our inventory.
Zenbooth was initially using Airtable to manage the fulfillment of every order that they received, but they soon started using it to monitor inventory and to ensure that they had the right quantities to keep production moving smoothly. The real power of Airtable became obvious when they were able to link the two datasets together. Connecting their production queue and their inventory management system through Airtable meant they'd essentially built their own custom manufacturing resource planning (MRP) system.
"We created an inventory management system, and linked the records in that table with the purchase order systems," Johnson explains. "And since they're linked, we were able to use formulas to predict stock needs and minimum purchases that we have to make to maintain our inventory levels. More specifically, Airtable knows how much inventory we need based on how many parts go into our product. So at any time, if we need to scale from making 10 booths a day to 20, we can just adjust our baseline, and it recalculates all of our inventory and knows exactly how much we need to maintain that level of production."
Building their own custom system allowed them to tailor it to their own needs, but it has also allowed them to discover various downstream use cases that have helped them with their logistics, design, and optimization needs.
Working cross-functionally in Airtable
On the logistics side, Airtable helped offer visual representations of the company's production and manufacturing processes–in particular, calendar views.
"The calendar view is all-powerful."
"Our logistics officer schedules shipments and makes sure that manufacturing is not overloaded," says David Evans, Head of Product at Zenbooth. "Now, they're able to drag orders around seamlessly without switching back and forth between tables and manually changing dates." That's because when an order is dragged around in an Airtable calendar view, the date fields of the order automatically update across the base in real time.
"The calendar view is all-powerful," adds Johnson.
For the design team, the growing number of orders meant a proportional increase in the amount of time spent preparing, designing and printing out labels, instructions, and other customer-facing materials.
With Airtable, they were able to streamline asset creation using the page designer block, which, when linked to the correct tables, could pull customer and order information directly into a fully designed template. With a one-time setup, the block automated the design process.
"Now, they're able to drag orders around seamlessly without switching back and forth between tables and manually changing dates."
"We also track things like errors and manufacturing shutdowns in Airtable so as we scale, we can look at our average number of errors and know what to expect based on how many people we're onboarding," Evans says.
The Zenbooth team uses formulas to do similar analyses on the rest of their production pipeline, which is made much easier by the fact that all of their current and historical data lives in one place.
"We had an outside analyst come in and help us report on the efficiency of our production. And he could pull our production orders, reporting and time sheets and instantly provide different efficiency metrics, like how many hours of labor it takes to produce a product," Johnson says.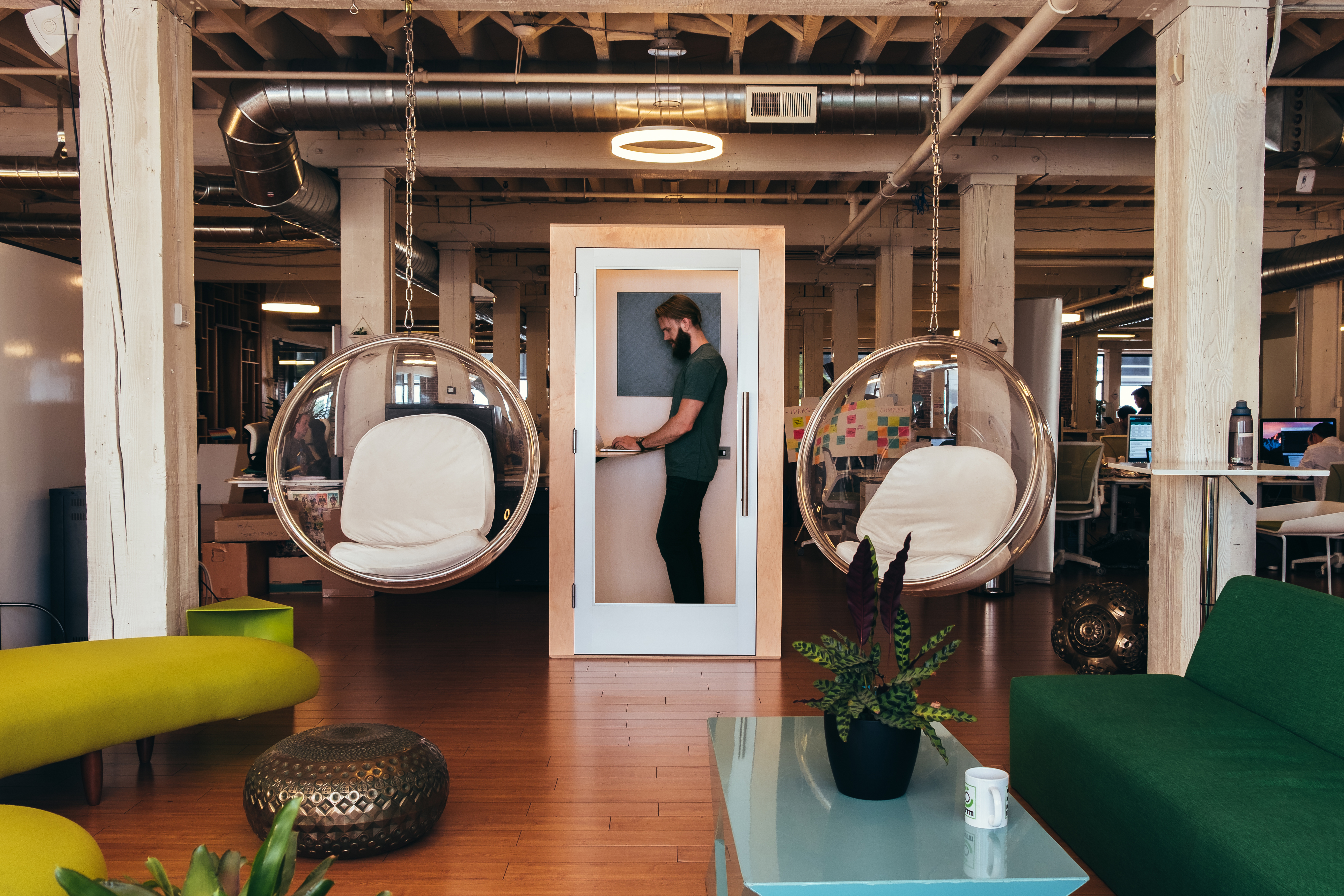 Building on a strong foundation
Since selling their first booth two and a half years ago, Zenbooth has seen a quickly growing customer base that boasts names such as Shopify, Samsung, Lyft, Meetup, New York University, Virgin, Intel and more–and they're continuing to grow their product offerings alongside their business.
"We've built a lot of our company around Airtable," Johnson says. "You just lose that degree of freedom using an out-of-the-box system. We've been able to build a system in Airtable and gain a lot of automation that we wouldn't have been able to get through spreadsheets."
Sign up for Airtable for free