Fresh new features to help you schedule, plan, and learn in Airtable.
Each month, we showcase a range of new features we're adding to Airtable. We hope these features help make Airtable the obvious choice for creators everywhere and help serve our mission: to democratize software.

Last month, we released a new place to find help, a fancy calendar for Android, and a new path for marketers. Oh, and there was a video with a jingle. You can read all about it here. But today, we're here to show you the new hotness.
Tight on time? Watch our newest video series "What's new (in two)" to get the full breakdown in under 120 seconds.
Favorite views! 🤩
Please help us in welcoming our freshest feature, "Favorite views," which launched on July 19th. With Favorite Views, you can "star" your favorite and/or most frequently used views. Starring a view will move it to a new section called "My Favorites," which helps personalize your views and provides quick and easy access to the views that matter to you most.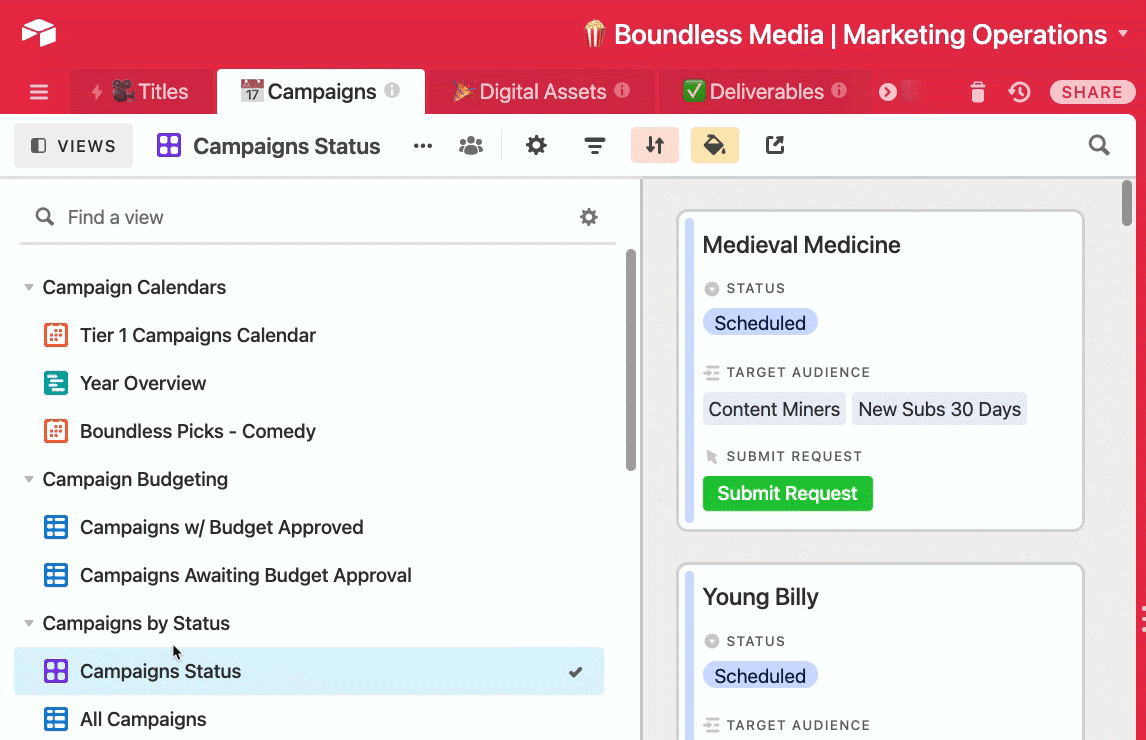 A collapsible sidebar 🤏
We know our users love views, which allow them to quickly toggle between different frameworks. That's why we're making them even easier to scan, by making the "Create view" section of the sidebar collapsible. This helps you keep your sidebar clean and organized—and like mentioned, it's even easier to see a comprehensive list of the views you've come to rely on.
And of course, when you're ready to create a new view, it's just one click away.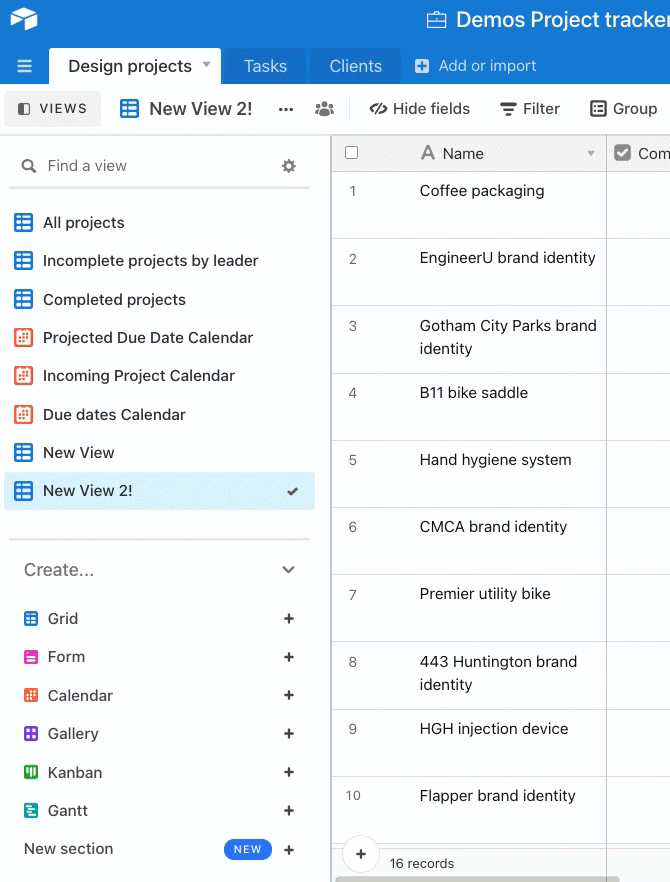 Mobile app features 📲
We've carried computers around in our pockets since about 2007, but in many ways, these pocket-sized miracles are still pretty bad at replacing our handy computers. Sure, they're great for looking up trivia for websites or sending a quick email, but when it comes to serious work—like updating a database—they've been woefully underutilized.
Today, we're taking a step to fix that by adding new features to our Airtable mobile offerings on iOS and Android. That starts with the ability to duplicate records in-app—which is a great way to create or customize matching records.
And we're also adding all-new functionality to our Android app, which now has support for summary functions, @mentioning others in comments, and record coloring. We think these features will help you make the most out of your database—no clunky desktop computer necessary.
Salesforce external source sync🚰
External source sync has been super popular with Airtable users, and it's no surprise, as this feature is one of the absolute best ways to integrate data from external sources like Jira Cloud, Google Calendar, and Box.
And for anyone who missed that big ol' name above, Salesforce sync is officially out of closed beta.
With external source sync, you can automatically and continuously pull data from Salesforce directly into your Airtable workflow, which will help eliminate laborious data entry and save oodles of time. It's the perfect way to pull a business object (like contacts, leads, accounts, and more) on an ongoing basis. Then you can use this data to generate views, reports, dashboards, and more. You can read more about it here.
And that's it for this month. As always, thanks for reading along. We'll be back next month with even more new features to help you get the most out of your database.
Until then, stay cool and happy Airtable-ing.