Calendar view for iOS is here. Plus, explore new ways to collapse views, preview emails right from within Airtable, and more.
It's a big month, with the release of Calendar view on iOS devices, (even more) collapsible views, a new automation trigger, a better way to preview automated emails, and much more. You can read about it here, get a little more in-depth on the Airtable blog, or you can watch the video below to learn everything in less time than two minutes.

📆 Calendar view on iOS
First to the plate is Calendar view for iOS. This has been one of our most hotly requested features and we couldn't be more jazzed to get it into your hand.
Just like on desktop, the iOS calendar lets you create, view, or delete records from that all-familiar calendar interface. It's also sporting a snazzy Schedule view so you can easily see what's coming up tomorrow, next week, or even next year. And for those Android fans just joining, don't worry, we released your version a few months ago.
And, if you haven't already, grab the Airtable app from the App Store.
🔍 Expand and collapse all views
Over the last few months, you've probably noticed we've been making the sidebar more customizable, collapsible, and organized. That's because we believe your workspace should look how you want it—and your sidebar is one of the most important places in all of Airtable.
Today, we're, ahem, expanding that functionality with the ability to collapse and expand all views. Simply click the arrow icon at the top right of any view section.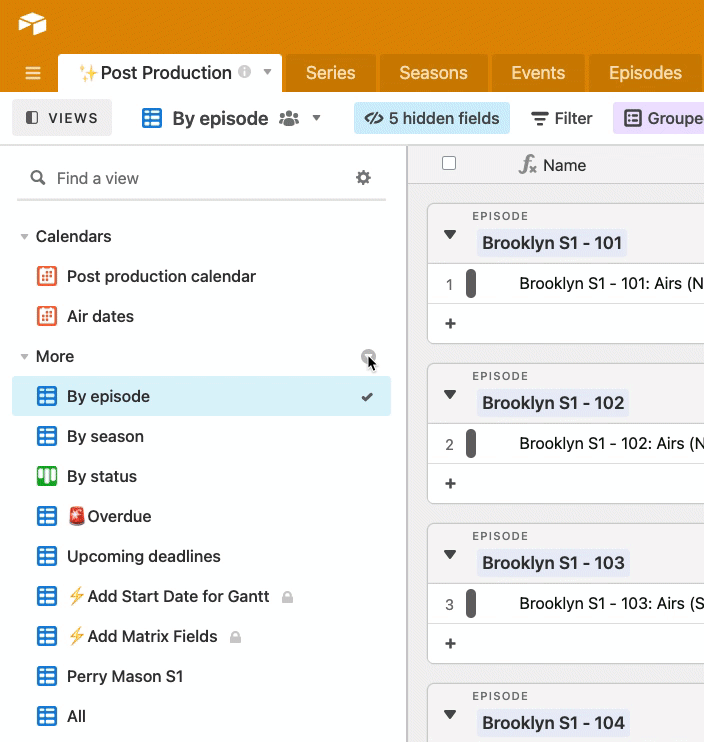 🤖 A new automation trigger
Want to send an automated email while you're out of town? Or schedule a tweet? Or remember to send a message in Teams sometime in the future?
Well, now you can with our new "At a scheduled time" trigger. And it couldn't be easier to set up—simply select it from the Automations pane, select an interval type—ranging from every 15 minutes to just once—and then select the time and add the action.

We've already found many ways to institute this automation in our workflows, but we know we haven't even scratched the surface of what's possible. We can't wait to see what you do with it.

> Read more in the support article here.
📧 Email Preview in Automations
Speaking of automations, if you use Airtable to send automated emails, you'll love our newest feature—which allows you to preview your email right from the automations modal.
In the past, users had to click Run Test, open their email client, wait for the email to arrive, and archive the test email they received. And if they made changes to the email content before sending it, they'd probably want to do it all over again. Well, no more!

Now, when the user clicks the new "Preview Email" button, a preview will be generated with the recipient list, subject line, and email body. Best of all, this preview is generated using the same code that produces the emails.

This has already cut down on many, many test emails, and we hope you find it helpful.

Before you go...
We know, that's a lot of stuff! But we'd be remiss not to tell you about our new five-part YouTube series, all about Airtable views. Our series will walk you through everything from creating a view to how to customize, manage, and share them.

> Watch it here

Oh, and if you're interested in joining an Airtable product demo, we're hosting a bi-weekly product demo where you can learn all about how organizations like Netflix, Shopify, and Amazon use Airtable to manage some of their most complex workflows. Check it out.