Here are some ways you can use Airtable to keep everyone filled in, even when you're all out of the office.
In a world where your teammates may no longer walk through the office together each morning, it's more important than ever to keep everyone aligned. Distributed and remote work is here to stay, and the sooner you get everyone connected, the better off your team will be.
Here are a few ways you can use Airtable to keep everyone on the same page when no one is in the same room.
> Download our ebook to learn about the challenges distributed teams face, as well as tips on how you can better manage your own team.
Keep everyone updated on status changes with automations
Communicating status updates can get murky when plans suddenly change or deadlines get pushed back. Consider setting up an automation in your base that updates your Slack channels every time a record's status changes so nothing falls through the cracks.
Try it out for yourself: click the automations button in the upper right corner of your base, then select "send a Slack message." From there, you can customize your trigger type and connect it to a table.
Let's say you're on a content team that is publishing articles daily. In this specific example, we want a Slack message to be sent every time the status on a record is changed to "ready for publish" so teammates can get content out on time. Our trigger type will be "when record is updated," and our action is "send a Slack message."
Once you've set these conditions, connect your Slack account and create an automated message. Now, your team's Slack channel will be notified every time an article is ready for publication. Everyone will stay informed and your publishing schedule won't falter a bit.
Create a form for daily check-ins
More managers are implementing daily check-ins into their workflows to understand their direct reports' workload. Daily check-ins are invaluable in the age of remote and distributed work because they let leaders gauge their teams' priorities from afar and see when issues are cropping up.
Save everyone's time by creating a daily check-in (or weekly check-in) form in Airtable. Team members can fill out the simple form in under two minutes, and all submissions will automatically populate the connected table so you have the data waiting when you settle in with your cup of coffee.
> Incorporate a check-in form into your workflow today with our handy template.
Create a form by heading to the views button in the left of your base and finding the form view. You can add all kinds of field types, from multiple select to checkbox, and move things around with the drag and drop tool.
Since check-ins should be short and sweet, we recommend adding fields that capture the following information:
Teammate name
Date
Priorities
Blockers
Consider adding a long text field at the end of the form so team members can add any questions, comments, or concerns they may have.
Use your base to document team meetings
Airtable can be the single source of truth for your meeting notes, action items, and discussion topic suggestion topics. Centralizing your meeting information can prevent confusion and promote transparency within your team.
> Download our weekly team meetings template.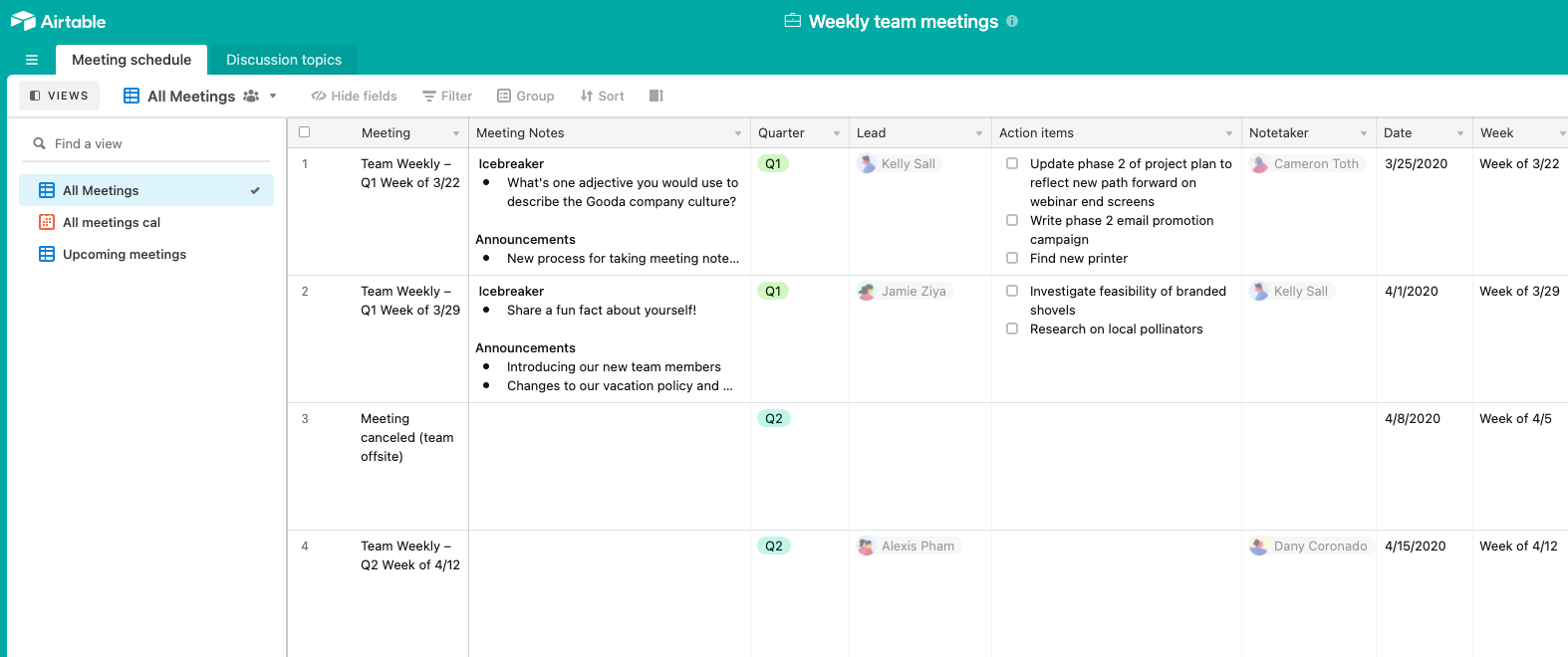 Add a single select field to your meeting base to denote which quarter you're in, or assign a new notetaker each week using the collaborator field. If you're recording your Zoom meetings, you can utilize the attachment field and drop the link in, so anyone who's missed a meeting can play catch-up.
Pro tip: Consider creating a form so team members can propose discussion topics, which will feed into another table. Linking your tables lets you add these suggestions to your weekly meeting docket so everyone's needs are addressed.
---
Driving alignment is essential when you're running a remote or distributed team. Storing all of your data in a flexible database like Airtable ensures everyone has access to the same information.
You've got questions, we've got templates. Take a look through our remote work template page and get started on building your remote team hub, daily check-in form, or virtual events tracker.