How the Jacksonville Jaguars back office uses Airtable to power marketing and analytics projects.
Analytics has always played some role in professional sports: from the ledgers and punchcards of the '60s and '70s, to the clever statistics employed by Oakland Athletics manager Billy Beane, coaches and players alike have always searched for insights into the minutiae of game play. Yet in recent years, professional sports has turned to analytics for support in something that's arguably even more important: engaging fans.
The Jacksonville Jaguars is one of the youngest NFL franchises: the team joined in 1995 as one of the league's first expansions in nearly two decades. Their relative youth as an organization is reflected in the makeup of a less oft-covered (but no less crucial) part of their operation — the back office crew. For Arri Landsman-Roos, the 26-year-old Director of Business Analytics, and Sarah Alofs, the 27-year-old Director of Marketing Strategy, this means an unparalleled opportunity to use their expertise in analytics and strategy to engage fans in an environment that encourages experimentation and bold moves.
Landsman-Roos and Alofs started at the Jaguars within a week of one another in 2013. "There are two VPs in our group, and one hired Arri to work on business analytics, and the other hired me to work on customer analytics," says Alofs, laughing. In the years since then, both have ascended to lead their respective groups. "Data drives everything that we do here," says Alofs. From identifying and segmenting fans in order to design effective marketing campaigns to generating dizzying numbers of reports on ticket sales and attendance trends, the two are working together to help cultivate and harness an unprecedented wave of fan excitement.
As they work to build their capacity across the marketing and analytics capacities, Landsman-Roos and Alofs both turn to Airtable to manage projects and responsibilities across their groups.
Priorities, priorities, priorities
But they said no — you don't understand, it's way more powerful than that. You have to check it out.
Alofs first encountered Airtable while at dinner with a friend. "I saw them using Airtable on their iPhone and asked about it. They said they used it to manage their to-do list, and I thought, *Oh great, another to-do list application. *But they said no — you don't understand, it's way more powerful than that. You have to check it out." When she got back to the office, Alofs saw "the seamless integration of desktop and mobile" and soon realized, "it's more than a spreadsheet on your phone — it's actually a full work tool."
As a former consultant with the Boston Consultant Group, Alofs is an Excel power user, and so eagerly jumped into the familiar grid interface. She started small, introducing the tool to her six-person team as a way to create a centralized priorities and to-do list.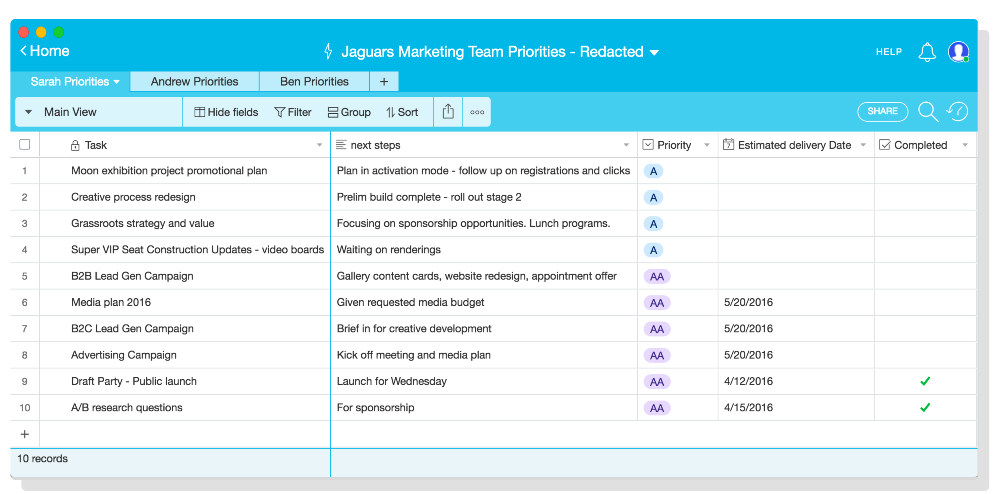 Each member of the team has a separate 'Priorities' list that shows the primary task, the next steps, a single-select field for 'Priority', an estimated delivery date, and a checkbox to indicate when the task is complete. By using a single-select field for 'Priority,' Alofs and team are able to standardize responses and easily filter their priority list to only display the most high value tasks at any given time.
A transparent look at the marketing organization
After the successful rollout of the priority lists for her team, Alofs set out to build a more robust dashboard for all marketing team activities, developing six tables to manage the processes behind many of the team's individual priorities: 'Sponsor Digital Assets', 'Promo Calendar', 'Grassroots Calendar', 'Prize Fulfillment', 'Job Log', and 'SME Action Items copy'.

To stay top-of-mind with their fans, the team maintains a very active promotions calendar, spanning everything from sales on tickets to giveaways, event registration drives, and more.
The 'Promo Calendar' distills each of these campaigns into its component parts, tracking its start and end dates, the purpose of the campaign, any applicable prizes, and the places it might appear (in the header of the website, on a social banner, on TV or the radio, in an email, etc.).
By using a checkbox field for each of these potential promotional channels, the team is able to quickly filter both this grid view and its corresponding calendar view to only show the campaigns for a specific channel during any given month.
Calling all fans
The procedure for grassroots event marketing is similar to that for other types of promotion, though the reality of event marketing necessitates the creation of a separate table. Here, the team can collect times, assign workers, tally the number of attendees, and more.
By filtering this table to show only events from a certain month and then looking at the summary bar, Alofs can quickly find out the average number of attendees for that month's events, or the total for the entire month.
Streamlining the creative services pipeline
But we're not going to drop $25k for a custom solution if we can build it in Airtable.
Unlike many marketing teams, particularly in the world of sports, the Jaguars' team doesn't work with any outside agencies to create the wide range of creative assets necessary for their marketing campaigns. Instead, they have an in-house creative services team of three designers and a 'traffic manager' who develop everything from logos to banner artwork, program inserts, stadium maps and more. For such a high-volume functional group, process management is essential: figuring out a streamlined approach to capturing, prioritizing and delivering on requests from across the organization — all while remaining transparent and effectively managing expectations — is the only way to succeed.
Originally, "we were looking into building a custom job log," says Alofs. "But we're not going to drop $25k for a custom solution if we can build it in Airtable."
The entire creative services pipeline is consolidated and managed in the 'Job Log' table. "That's the home base for the traffic manager," says Alofs.
The process starts with a request for a piece of collateral. The person making the request fills out a standard brief, which captures everything from the type of creative needed to the required dimensions, the intended purpose of the piece, and more. Rather than having requesters fill out a static brief document, which is the standard for many creative services teams, they created an Airtable form.
Anyone on the broader Jaguars business team can access the form and fill it out. Their answers automatically populate the overall marketing support request log. Although the form was automatically generated from the existing fields in the 'Job Log' table, the creative services team reorders them for the form view so they'll flow logically to an end user making a request.
They also remove a number of fields that are essential for managing the process of completing the work, but aren't pertinent for requesters, such as priority, job number, comments and more.
Once a request has made it into the log, the traffic manager assigns it a priority and an owner based on that designer's skill set and current list of projects. The traffic manager can easily check out how many tasks each designer is juggling by visiting their saved grid view.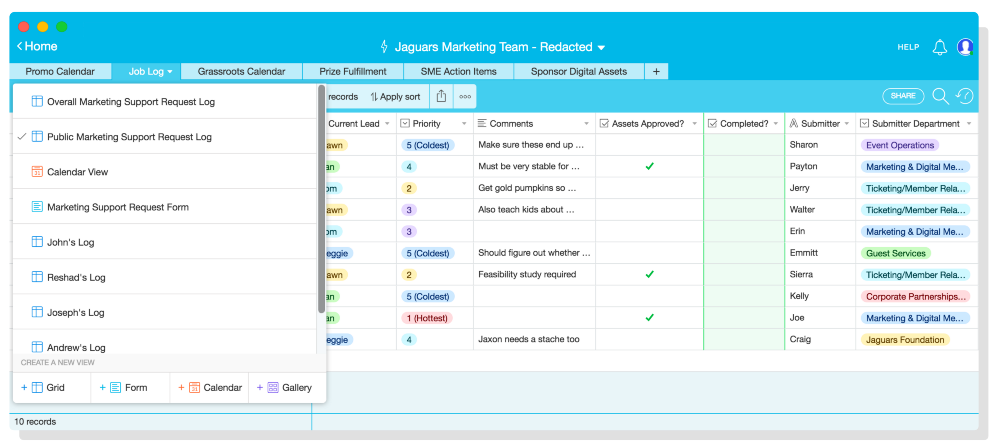 These views filter the total list of projects to show only requests where the 'Completed' field has not been checked, and the 'Current Lead' multiple select includes that designer's name.
Alternatively, if the traffic manager would prefer to see that designer's workload in the context of the full creative services pipeline, they can stay in the main view and sort by 'Current Lead' and 'Priority' to get a better sense of the overall balance of the work's distribution.
In many cases, the designers divide a larger project, such as an email campaign, into a set of smaller discrete tasks that interconnect to result in the final request being fulfilled. Airtable helps to smooth the transitions between designers during these situations: "Maybe John will be working on a logo, but we're working overall on email," explains Alofs. "Once he's done, he'll just select whomever gets it next in the project record, and it will autoshift the logo to their log without needing to talk to them about it directly or send an email."
The creative services job log also plays a crucial role in managing expectations and maintaining transparency with their clients from the rest of the Jaguars organization. They've created a special public view for the log so that anyone who has requested a piece of collateral can independently go look up its status at any time — without having to reach out to the busy designers.
The team knows that requesters only care about the subset of the fields in the log that show the priority, status, and approvals for their project, and will be less interested in the minutiae of their process, so they hide 10 fields that would otherwise distract from the purpose of the view: helping to communicate the relative priority and progress of each project in the pipeline.
Growing use cases for a growing team
Over time, Alofs and Landsman-Roos continue to find new uses for Airtable. With her marketing dashboard established, Sarah introduced the broader Jaguars business team to Airtable, creating a joint base for Sales, Events, and Marketing to create one unified dashboard for all ongoing initiatives.
In the three tables of the SME Joint base, the three teams track open action items, a high level view of their lead sources, and the agenda for each of their meetings.
Because a multiple select field is included to capture the owners of each action item, each team leader is able to easily filter to see which activities are in their team's court. Similarly, the estimated timeline date field allows for quick evaluation of when projects will be complete, either by filtering or by creating a calendar view to visualize the cadence of deadlines:
As more use cases take hold, Alofs and team are hopeful that Airtable will help to standardize and streamline additional processes in the same way that it has improved the creative services workflow and reporting transparency.
Learn more about the innovative team behind the Jacksonville Jaguars over at Creators and Creatives.