Enhanced security, Airtable AI, and more
Organizations have been navigating two big, recent trends: boosting efficiency and understanding the impacts of generative AI. Many organizations are consolidating tools and implementing new ones—at the same time.
But finding the right balance of innovation, usability, and control is a tremendous challenge—and that challenge only gets more complex the larger your organization is. Organizations often must decide between tools that offer robust security and governance or user experience and flexibility.
What enterprises really need is a central platform that empowers their entire business to build powerful, customizable apps to drive their critical workflows.
Which is why we're launching new scalability, governance, and AI capabilities to help organizations build more advanced, powerful apps to manage hundreds of thousands of pieces of data—all while maintaining security and control. And, we've updated our pricing and service packages to give organizations clearer and flexible options so they can have the right level of scale, functionality, and support to fit their needs.
Accelerate execution and productivity by embedding AI directly into your organization's workflows

As organizations start to understand the transformative power of AI and consider ways to implement it in their day-to-day operations, they're inundated with pitches about new tools that are either too narrow in scope or rigid in application. With Airtable AI, businesses can harness the power of generative AI within existing workflows—or build brand new workflows with AI built into each step.
Earlier this year, a small handful of customers helped us test Airtable AI, and saw huge productivity and efficiency gains in their operations. By embedding AI into their custom apps, organizations streamlined everything from drafting and reviewing content for marketing campaigns to analyzing customer feedback to inform their product roadmap—all within one single tool.
Today, we're expanding our Airtable AI beta to users on our paid plans.

The first application of AI in Airtable is a new AI field type, which can easily be added to any app. With this new field, teams can choose from a library of pre-built, customizable prompts, or build their own from scratch. Teams can get started in seconds, regardless of their experience or aptitude with AI. Your teams can then edit and optimize each AI implementation in their evolving apps and workflows, continuously learning and iterating as they build their apps.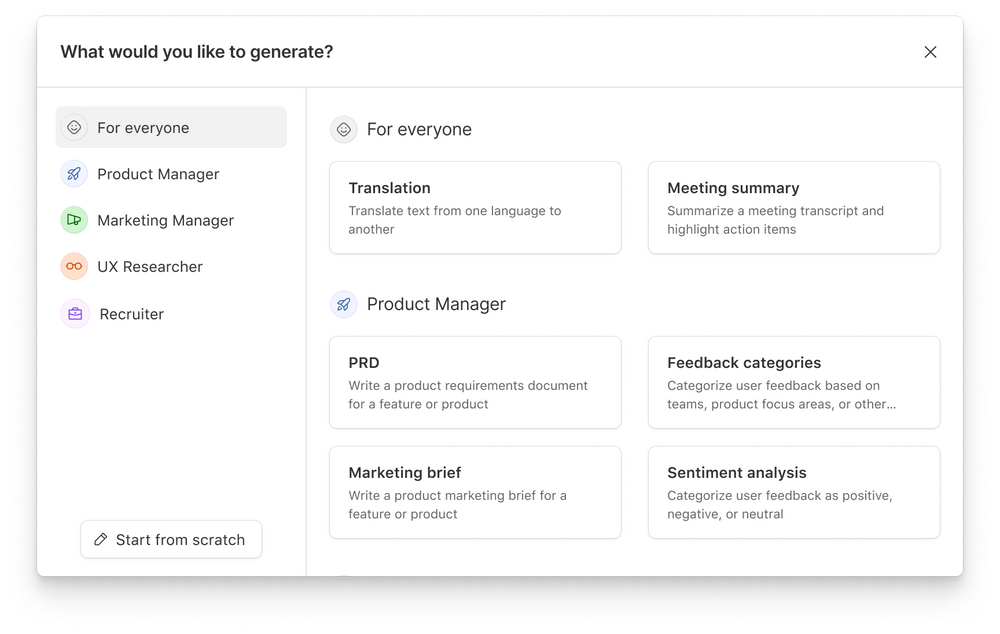 Rather than using AI in just one step of the process, Airtable AI can chain together multiple AI steps within an end-to-end workflow. For example, product teams can set up an AI field to automatically categorize customer feedback based on topic. They can then add another AI field to summarize the takeaways and sentiment from the customer feedback, for everyone across product, design, and research teams. Rather than spending hours reviewing and categorizing the feedback, those teams can jump straight into building the products their customers are asking for, faster than they ever could before.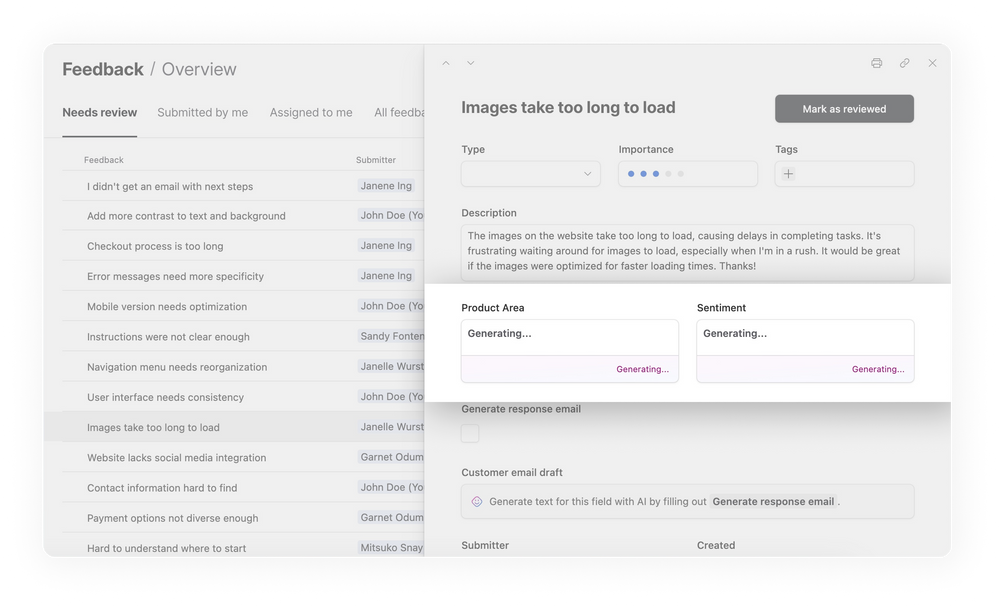 Once Airtable AI is implemented, these same insights and productivity gains can spread across the organization. Marketing teams can use AI to speed up each part of their campaign-planning process and find efficiencies across their entire workflow. An AI field can be used to draft a blog post or social copy based on messaging themes and value propositions. The same AI field can be refined based on a variety of factors such as length, tone, phrases, etc. Now, teams have a powerful head start, while still controlling the quality and the output.  
For global marketing teams, the AI field can speed up the localization process. Once copy for your campaign is approved—perhaps a blog or social post—Airtable AI can automatically localize into the key languages your organization operates in.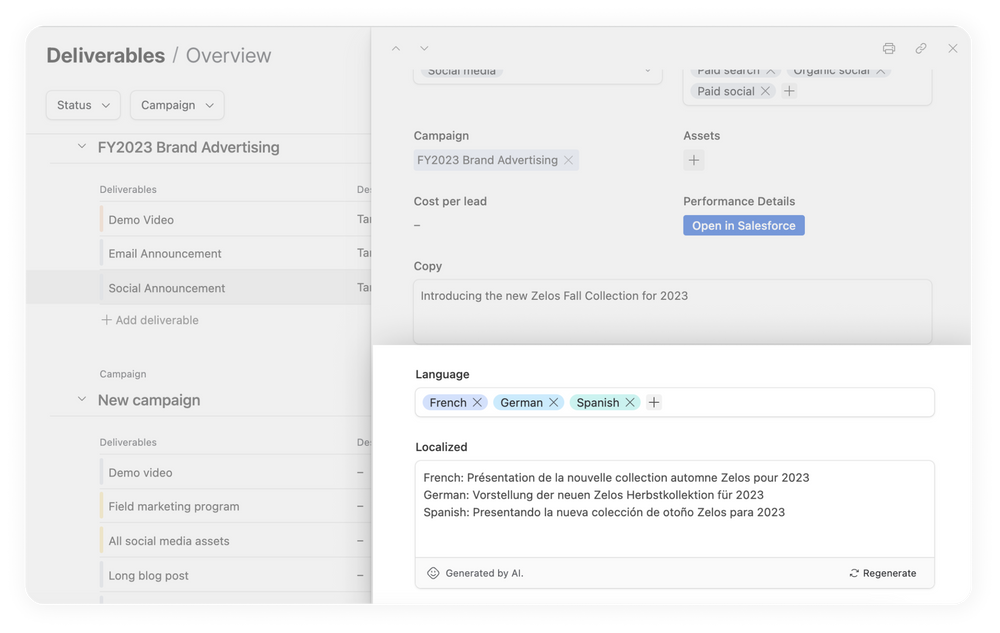 Airtable AI is built into your workflows, not layered on top of or focused on just one piece of the process. That means AI is continuously powering and making your work more productive at every step. Because it's deployed from one centrally managed platform, organizations have better visibility and control over how their teams are using AI and they're able to stay connected and execute together.
> Learn more about how to use Airtable AI
Airtable AI is currently in beta for paid plans. Airtable AI will be an optional paid add-on when generally available. If you're interested in joining the beta, please fill out this form.
Manage your data, users, and apps at scale

Whether organizations are building research repositories that drive innovation in our everyday products, or managing end-to-end content and publication processes to keep up with the constant pace of change, they need secure, dynamic systems that are easily managed.  
Today, we're releasing a suite of new features to better help enterprises build business-critical apps and give IT teams greater oversight of their organization's use of Airtable.
And that starts with increased record limits. Enterprise teams can now add up to 250,000 records per table (an increase from 100,000) and 500,000 records per base (an increase from 250,000). With greater data capacity, organizations can build more powerful and connected apps. Apps that can solve critical business challenges across teams, departments, and geographies—all without sacrificing performance.
These new record limits are now available as part of our new Enterprise Scale package. Contact our sales team for more information.
As your use of Airtable grows, permissions, visibility, and central control over user and data management become even more critical. To help you govern and administer your organization, we're releasing a new way to manage Airtable across any team, department, or business unit with Enterprise Hub.
With Enterprise Hub, you can create unlimited "org units" that reflect different usage groups of Airtable within your organization. These org units could be teams, departments, subsidiaries, or any grouping that makes sense for your company. Give your IT teams super admin capabilities that allow them to standardize org-wide security policies and user management settings across your organization, but defer org unit administration to line of business owners. This gives your on-the-ground teams the autonomy and flexibility to make adjustments without getting slowed down by unnecessary processes, while IT maintains control over critical policies at the top level.

Enterprise Hub is available as part of our new Enterprise Scale package. Contact our sales team for more information.
Increased control and visibility over your data

We're also releasing new features for organizations with advanced security and data protection requirements.
First is Enterprise Key Management (EKM), which gives organizations more control over their data through encryption keys that they own and manage.
EKM is now available as an optional paid add-on to our new Enterprise Scale package. Contact our sales team for more information.
With new Data Loss Prevention APIs, companies have even more control over unauthorized data in Airtable. Now IT teams can ensure sensitive data – like social security numbers or account numbers – is immediately removed and not recoverable by individual users.
And, when your security team needs to monitor activity in Airtable, they can quickly see critical events and changes with near real-time audit logs.
Data Loss Prevention and audit logs are now available as part of our new Enterprise Scale package. Contact our sales team for more information.
Choose the right plan for your organization and grow with confidence
We've updated our plans and services packages so you have the right level of scale, features, and control for your business needs. The new versions of our plans offer flexibility as your organization's use of Airtable becomes more complex, mapping the features and functionality that you need with your stage of growth.
We're excited to give smaller organizations easier ways to get access to more powerful features, while providing larger organizations more options and much more powerful offerings for their organization.
To learn more about our plans and features, visit our pricing page. If you're an existing customer looking for support, see here for more details.