Conducting competitor analysis with business listing tech company Yext
Yext's New York headquarters.
When Howard Lerman founded Yext in 2006, his goal was simple: "build an impactful, great company with super talented people." That mission has fueled the company for ten years, from its early days offering lead generation for local businesses, through its pay-per-call technology, which it spun off under the name Felix and sold to IAC, to its present-day status as the leading provider of location data management services to businesses of all sizes worldwide.
Location data management is a crucial operational concern for all businesses with brick and mortar locations. For companies like Sunglass Hut, which count on their physical stores to drive 95% of sales, keeping location information up-to-date across the far-flung reaches of the Internet is essential. Yet changing opening hours or a location's address necessitates many dreaded hours of manually scouring the web to find and update every directory listing, and then waiting days, weeks, and sometimes even months for the updates to appear. Yext provides a single, authoritative dashboard to discover, monitor, and control these listings in real-time a across over a hundred sites, including Google, Apple, Bing, Facebook, Yahoo, Yelp, and more. As a result, the Yext Location Management Platform is able to streamline the excruciating process of updating every possible listing to just a single click of a button.
Lerman's focus on the people behind the business has its benefits — they just keep coming back. Take head of product Jonathan Kennell: this isn't his first time at Yext. He originally joined the company in 2010 as a Software Engineer. Yet after rising through the company to become a Director of Product Management, Kennell made the decision to start his own company in 2012. His company's product, Reschedge, helped to streamline the recruiting interview scheduling process by using intelligent coordination across schedules, priorities, and interview sequences. A few years later, he sold Reschedge to HireVue, a larger recruiting software company, and subsequently returned to Yext as VP of Product Management.
In the intervening years, Yext continued to rapidly accelerate its business — the company grew to a team of 400 employees worldwide, managing over half a million business locations for everyone from mom-and-pop small businesses to Fortune 500 retailers and large hotel chains. It was also named one of Forbes' Most Promising Companies, one of Fortune's Great Places to Work for the past two years in a row, and grabbed the #212 spot on Inc. 500's 2015 list of Fastest Growing Private Companies in America.
The software tools it takes to grow a business
Having just returned from an early-stage startup, Kennell brings a unique perspective to his role as a leader at the company. He's constantly thinking about what tools it takes to grow a business — whether they're just getting started or, like Yext, are still expanding rapidly after 10 years on the market.
How do you get an edge in content marketing?
"The philosophy of your business and how you actually model that in processes and technology is always changing," said Kennell. "You can't just set your systems up once and assume they'll still work years — or even months — later."
You can't just set your systems up once and assume they'll still work years — or even months — later.
The need for a way to flexibly model the rapidly changing processes and organization of the growing company led Kennell to Airtable.
Airtable for competitive analysis
A key piece of the growth puzzle is keeping an eye on any upstart competitors coming for a slice of the market. Although Yext's comprehensive product suite and proprietary integrations with sites like Google and Apple clearly differentiate its solution from other competitors, more and more companies are starting to recognize the value of maintaining a consistent brand across platforms and locations and are attempting to enter the lucrative market. In response, Kennell and team set out to build a comprehensive competitive database in Airtable.
The first step was to identify and track comparable features offered by their competitors. With a color-coded multiple select field in their base, they standardized and assigned those features to the appropriate competitors for easy comparison.
Not only does this data allow them to keep tabs on their competition, but it helps to inform their marketing and product development as well. Designers and writers alike can turn to the base to research the solutions others have developed, and determine the best ways to both serve their customers and stand out from the rest of the pack.
Staying abreast of the competitor conversation
To get a better sense of the broader market landscape, they keep a detailed list of specific incidents involving the competition. "We have one table that lists all the companies, and then another table that has individual 'incidents' where that company came up," says Kennell. "For example, perhaps a customer mentioned them, or they were in the press."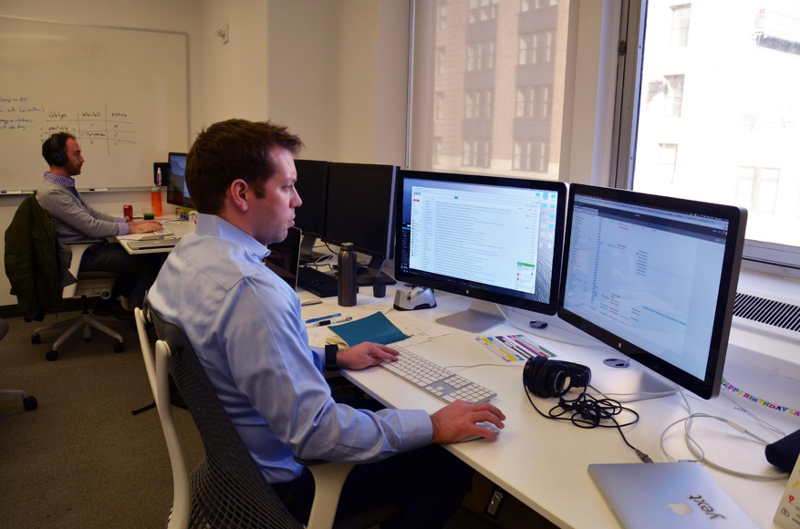 If a company similar to Yext is featured in Wired, for example, the headline is added to this separate "Incidents" table. The team can upload the company's logo and a screenshot of the article as attachments, and include the URL to the article. The incident is then linked to the specific competitor in the "Companies" table for easy reference in the future.
With this base, team members from throughout the company are able to quickly summon the context they need to make informed decisions. If a customer or prospect mentions a competitor, their salesperson is able to look up the customer's previous mentions of that competitor, not to mention the places where its comparable features fall short. Similarly, the communications team can determine how competitors have been positioned with different members of the press, helping to make sure they can properly differentiate themselves in subsequent conversations.
A database that grows with your team
You can essentially create whatever enterprise software you want. It makes it easier for everyone to be a programmer.
With their competitive database up and running, Kennell and the team at Yext are already moving on to other uses for Airtable, this time to streamline the product development process.
"The value of Airtable is that it allows you to jumpstart the process of building software," says Kennell. "You can essentially create whatever enterprise software you want. It makes it easier for everyone to be a programmer."
Sign up for Airtable for free