Instead of developing expensive internal tools, code-sharing platform GitHub saves time and money by managing its renowned developer relations programs with Airtable.
GitHub is the home for more than 65 million developers with plans to reach more than 100 million by 2025. It's where developers can create, share and ship the best code possible. GitHub makes it easy for developers to work together, to solve challenging problems, and to create the world's most important technologies. But GitHub wouldn't be GitHub without fostering a collaborative community that all come together—as individuals and in teams—to create the future of software, and to truly make a difference in the world.
GitHub's community is made up of students, teachers, scientists, designers, data analysts, enterprise professionals, and many others, all building software in the way that works best for them. Building and fostering the community is a key focus for GitHub's Developer Relations and Education teams. With each initiative and workflow requiring relationships with thousands of developers, comprehensive planning, and seamless program execution, the teams' tireless efforts to cultivate this vibrant community of developers, at this scale, can get complicated, fast.
Using Airtable, the GitHub Developer Relations and Education teams develop, launch, and manage new programs without engineering support—which means GitHub engineers aren't making tough trade offs against mission critical work.
Reducing process time by 95% (Yes, really)
The company created GitHub Stars to celebrate developers going above and beyond to advocate for and enrich the GitHub community. But within two days of opening the nomination process, they had received close to two thousand nominations.
It quickly became apparent that spreadsheets couldn't handle the scale and complexity of the program. Each nominee needed to be reviewed by GitHub's Developer Relations team before they could even apply. And each Star needed a profile in the GitHub Stars Hall of Fame, early access to certain features, invitations to exclusive events, and—of course—swag.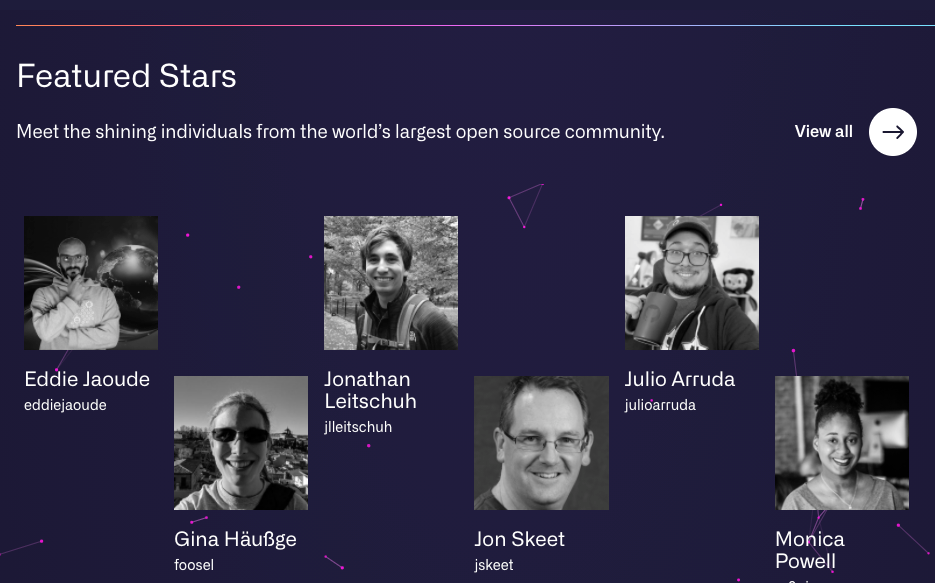 According to Anisha Pindoria, Senior Product Manager on GitHub's Developer Relations team, the manual work required to review nominees and applications, manage nondisclosure agreements, and update the GitHub Stars website was overwhelming.
"That's when I was like, 'There is no way that I can work in a spreadsheet, it's just quickly going out of control,'" Pindoria says. She looked into building an internal tool, but the costs were far beyond her budget. So when a colleague from the GitHub Education team introduced her to Airtable, Pindoria saw the potential to create her own, streamlined process.
I am constantly tooting Airtable's horn to everybody in GitHub, because I love how much it's made my life easier.
Pindoria's Airtable base has now become the command center for managing the GitHub Stars program. Developers can use the GitHub Stars website to nominate others for the program, and nominees use it to complete their application. All of the data is automatically pushed into a database, and then surfaced in Airtable, where the team can easily visualize and manage it. And Pindoria's team can now review and approve an application and update the GitHub Stars website, simply by selecting the appropriate option from a dropdown in Airtable.
The Developer Relations team also uses the base to manage nominations, NDA tracking, and swag shipments, as well as review nominees' GitHub profiles and applications—all of which is automatically reflected on the website.
Reviewing a single applicant used to take almost four hours, but with their new Airtable workflow, it takes only 15 minutes.
In their former, spreadsheet-based workflow, reviews were highly manual—skilled reviewers spent precious hours copying and pasting links, combing through badly formatted data, and toggling between various tools. Airtable's fields and formatting, along with the automations and connections built with the Airtable API, have cut that process down to minutes. And now that their data is surfaced in Airtable, it's easy for the GitHub team to get insights—for example, they can make dashboards to quickly analyze the geographical distribution of their Stars, or draw up metrics on the number of nominations coming in.
Handling a 70% uptick in applicants—without additional headcount
The COVID-19 pandemic has forced many teams to adapt, and the GitHub Education team quickly saw that they'd need to revisit their strategy. GitHub Education provides students with free software licenses and teachers with free access to GitHub Classroom, but it also builds in-person connections through training, mentorship, and support for students leading developer communities at their schools.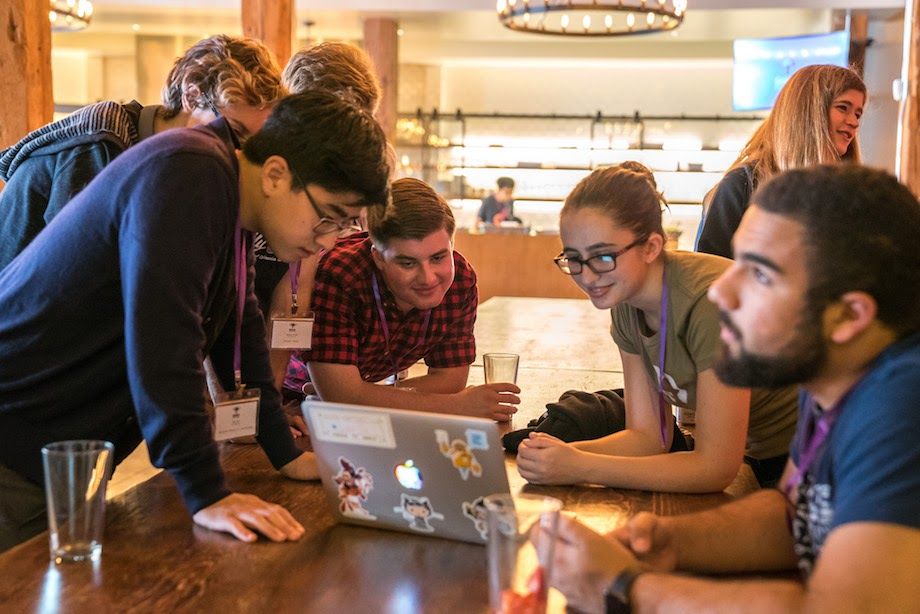 The GitHub Campus Experts program, which is responsible for supporting those communities, had to pivot from in-person to virtual events. They also had an unexpected challenge—a dramatic increase in applications.
Juan Pablo Flores, Program Manager for the Campus Experts program, saw a 70% increase in program applicants during the first six months of the pandemic. "We needed to find better ways to go through applications, since our capacity was the same, but we had double the work," Flores says.
There's like a thousand different ways in which we're using Airtable right now.
That "better way" was Airtable—Flores and his team developed an improved Airtable workflow, which consolidated all the information from the Campus Experts applications, and all the information for upcoming student events, into one single source of truth. The team immediately noticed the improvements.
"One of the biggest changes is that we've improved tracking of student events," Flores says. "Before, we had a living spreadsheet. But when we tried to analyze the data that we had, we had to run a lot of different scripts; we had to clean a lot of data, and the whole process took two weeks."
Now, they don't have to spend weeks of time manually cleaning up their data, and they can easily create custom visual dashboards to get relevant insights.
The extensibility of Airtable as a platform has also allowed them to develop even more time-saving solutions. Before Airtable, shipping swag to student events was a tedious manual process that involved matching lists of items to shipping addresses to student contact information.
Flores was able to build a better solution on top of the Airtable API—he programmed a bot that grabs the information from their database and requests swag directly from their vendors. "I just have to press 'Start,'" says Flores. He estimates that this new workflow has saved them nearly two hours of planning per week.
What's next for GitHub and Airtable

As GitHub and its developer community continue to grow, their Developer Relations and GitHub Education teams will adapt and scale with Airtable. Avoiding the need for expensive developer-built tools and manual workflows, they can focus on what really matters: fostering the world's largest community of developers.