Follow these 4 easy steps to create a single hub for your calendar, task lists, Gantt charts, and more.
Product management can feel like trying to speak four different languages at once, navigating fluid timelines while collaborating with teams across engineering, design, and marketing.
Keeping track of all your information and running an agile product roadmap—or any kind of project timeline—using plain spreadsheets has some recurring problems, which an Airtable product roadmap can help you solve.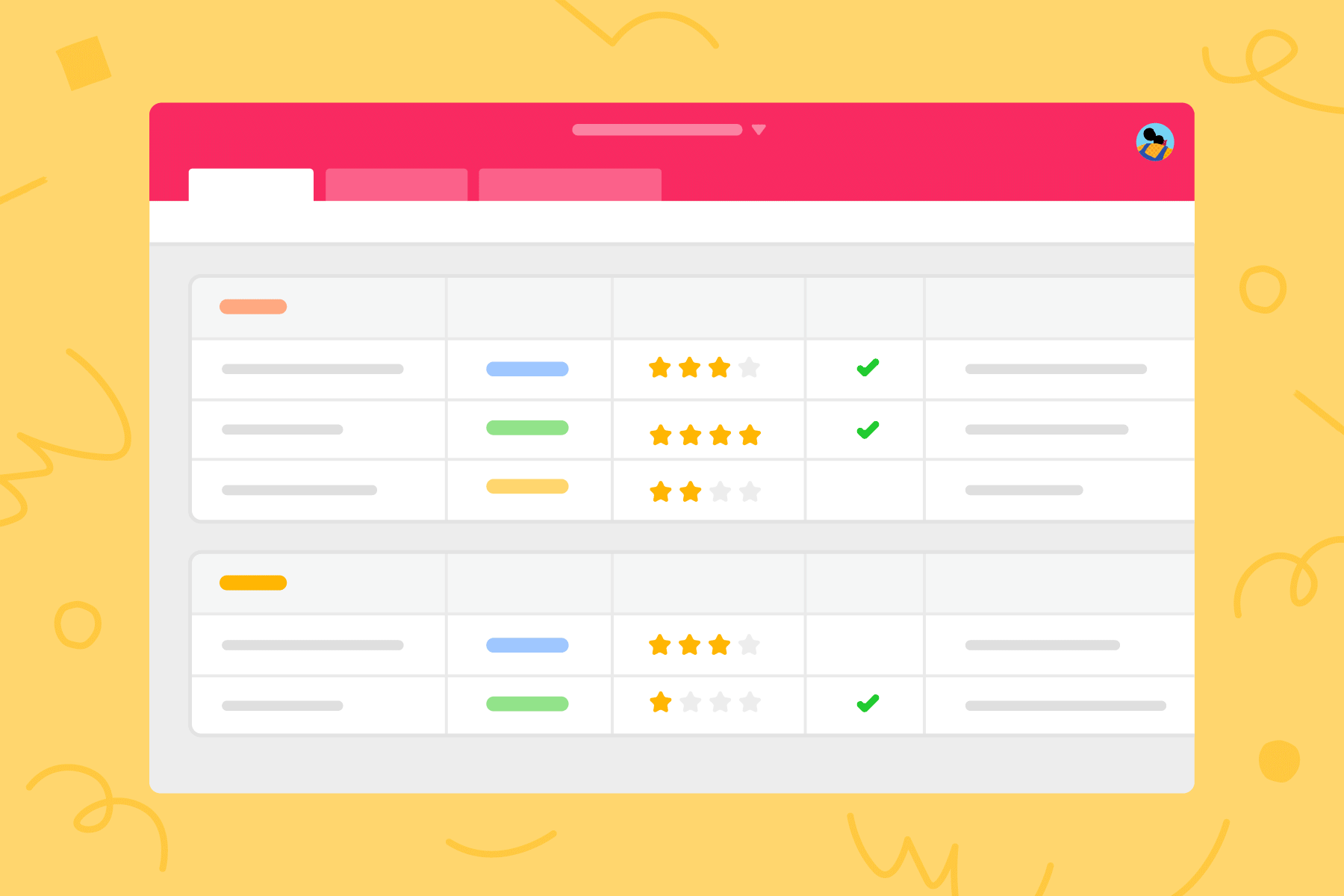 Stay organized and keep it customized
Visualizing your information is important. Design decisions such as layout and formatting can help us quickly differentiate between types of information, their respective hierarchy, prioritization and more. In a spreadsheet, you're working with rows and columns of plain cells that afford you plenty of flexibility in deciding how to lay out your information, but they require you to manually format, such as with color coding or merging cells, in order to differentiate your data.
Airtable affords you the same flexibility of spreadsheets, but with more powerful features to choose from in building out your tools. Airtable's rich field types recognize when you're dealing with plain text vs a date, dropdown list, currency, image, bar code–the list goes on–allowing you to easily differentiate between the types of data you're dealing with.
Break away from the grid
Recognizing these differences allows us to visualize your information in new ways: by anchoring on a date field, Airtable can present your product roadmap or product marketing plan in the form of a calendar. By anchoring on an image or attachment field, Airtable can present your information in the form of a gallery. Working off of a select field? Create a kanban view to visualize the pipeline.
All with just a click. In a traditional spreadsheet, building such visualizations can be complex or exceedingly laborious.
Seamless collaboration
Using a spreadsheet to collaborate with others can result in a series of shared files, making sure people don't make changes on top of each other, or the nightmare of sending around "the latest version." Even tracking changes becomes a process between versions and checking document revision histories.
With Airtable, you can work out of the same data set, keep information transparent, and still collaborate efficiently through features such as views, granular revisions and commenting.
---
Getting started: Import your product roadmap spreadsheet
It takes only a few steps to transform an existing spreadsheet into a powerful product roadmap base in Airtable. Say you already have a spreadsheet with six key columns of information: name of feature, name of person who is the feature lead, status of development, notes, and start-date and end-date of development. You can import that spreadsheet into a new Airtable base and get up and running in just four steps.
(If you'd like to follow along, we've put together an example product roadmap spreadsheet you can download here.)
1. Import your spreadsheet
Click "Add a Base" on the homescreen and upload a .CSV file or paste data right in. To start, click "Add a base" on the Airtable homescreen and upload a spreadsheet in .CSV format, or you can copy and paste data right in. Airtable will turn your spreadsheet rows into a table full of Airtable records, with the columns becoming the starting set of fields in your base.
2. Power up your field types
Your imported information will initially be displayed in plain text, but Airtable fields can be assigned all sorts of different field types with many different powers. You can customize a field's type with the "Customize field type" option in the drop-down menu next to each field name. Changing type will automatically try to convert the values in the existing field into properly formatted information of the new type, as long as the input matches the necessary formatting.
Here are some field types that might be useful for your product roadmap base:
Development status: A single-select field for status presents simple, consistent options for tracking each feature to completion, and visualizing progress using kanban stacks and other views
Feature category: Another single-select field to categorize areas of work
References: Attachment fields are one of Airtable's most powerful features, with rich graphic display abilities and easy drag-and-drop uploading that lets you keep mockup images, spec docs, and other files right alongside your feature records
3. Build your roadmap
Airtable lets you create different views you can use to accomplish your work in your own individual space using filtering, grouping, and visualizations, without having to worrying about duplicating spreadsheet tables and syncing information back—and sharing your views with other Airtable users or via the web lets you build process components once and then re-use seamlessly.
Let's make a new view called "Release calendar" to start turbocharging our product development roadmap, using the calendar Add a view option in the views picker.
Any fields with the date type will be pulled out automatically as options to visualize. You can pick the Start date and End date fields to create a calendar showing date ranges of each feature's development, which you can dynamically adjust with drag-and-drop. You can also apply color formatting based on select fields like our Status or Feature category, as well as other conditions.
Later on, if you add in release milestone dates, you can add that date to the calendar view as well, labeled alongside your feature development roadmap. You can also use filters to create other views based on status, feature category, or feature lead.
Next let's add a kanban view called "Status tracker." Choosing your Status single-select will stack your features into cards based on their current status, letting you easily visualize work queues and drag to recategorize. You can customize the cards to show different information fields, and use attached image fields as covers for the cards. Filtering, sorting, and conditional coloring options are also available for making kanban views, and your Feature lead collaborator field can be used as the card grouping to easily manage team-member assignments.
4. Get your team on the same page
Once you have your product roadmap base set up, it's time to get collaborating! You can share your base directly with Airtable users so they can see the information and views in the base, create their own personal working views, and get notifications when they are mentioned in comments or tagged in a collaborator field. With creator, editor, and read-only access levels, you can give each team member the visibility they need.
Views can also be shared with anyone with unique links that you can restrict in various ways. These read-only views let you filter and group just the relevant information for the specific user, making them a great way to present always up-to-date information to internal and external stakeholders, either shared directly or embedded into a website.
You can even create a shareable form that lets you take input from anyone. Give it a try by adding a form for Feature requests and including the Feature name, End date, and Feature lead fields. Grab the link from the sharing dialog, pass it on to your coworkers, and let them know the new product roadmap system is open for business!
If you'd like even more ideas for improving your product development process, check out our product roadmap examples here.