An editorial calendar lets you plan, schedule, and manage content publishing—but no calendar is one-size-fits-all. Here's how to build one that works for you.
We all know what happens when editorial calendars don't work. They can be time-consuming to create, and still leave your team overburdened by duplicate information and overwhelming views. So while it's meant to make your life easier, sometimes it makes things painful for the people who need it the most—you and your team.
Editorial calendars that do work keep content creators in sync, and content flowing on schedule. With the right setup, it becomes a tool your team works in every day: it helps you collect inputs from stakeholders and manage your backlog, give your partners just the right level of visibility, and customize your workflow to match the way your team works.
The right tools will make your editorial calendar easier to build (we're partial to Airtable, for obvious reasons), but it also matters how you build them. In this piece, we'll walk through best practices for creating an effective editorial calendar. Read on for our step-by-step guide, or dive in and try our template yourself.
What to include in an editorial calendar
Your editorial calendar should help you quickly understand and share production status—from granular, in-the-weeds details, to high-level, executive-level overviews. It may even be that the folks on your team need different views of your content...one designer may want far less detail than another, and your CEO may want more detail than your team lead. Because your calendar will (ideally) be used in so many different ways, it needs to be deeply flexible.
At a glance, it should help you (and your stakeholders) answer questions like:
Upcoming content: What assets will be live in the next week/month/quarter?
Status updates: What content assets are at risk or delayed?
Accountability: Who's driving, contributing to, and approving each asset?
Campaigns: What's the full list of deliverables for our team's campaigns?
Strategy: How does each asset map to our company goals?
The information you include about every asset will dictate the way your editorial calendar is used—and naturally, that'll be a work in progress as your team evolves. You might, for example, realize that tagging assets by audience allows you to answer common questions from your performance marketing team, or that noting the original requestor makes follow-up research easier. Again: flexibility is key.
With that in mind, these are the pieces of information that most editorial calendars include:
Due dates and publication date: A simplified editorial calendar will only need due dates. If you have a more complex process, you probably need to capture intermediary steps, like the creative brief, author assignment, approvals, design, and publication. Mapping this workflow at the asset level will help you accurately predict production cycles—and hit your publication dates.
Status: Your stages should mirror the production phases for each asset, from ideation to publication. Lots of  teams use statuses like: planning, writing, editing, production, staging, live (published), on hold, or cancelled. There's a strong correlation between due dates and status—you may even want to automate your status based on the due date.
Content type and channel: You're probably producing multiple content types, and publishing to multiple channels. Noting these attributes will make it easier to filter views, map your workflow, and see your team's capacity.
Headline and links: A proposed title and URL gives stakeholders a sense of topic and tone, and helps you keep track of multiple assets within the same theme or campaign. This is also one of the only unique attributes you'll usually include—so it serves as an identifier for each asset.
Content owner: The content owner should be the driver for each asset. And it's critical that every asset has one owner! If you want something more granular, you can specify sub-owners at each stage of production, like: editor, writer, designer, legal, or web producer.
Examples of editorial calendars you can make with Airtable
No two companies' content programs are identical—and most content teams evolve their processes every year, if not every quarter. These are just a few examples of the way other editorial teams have customized their calendars using Airtable:
Singularity Hub
Singularity Hub is a digital publication that covers tech and innovation. Their team uses Airtable's digital media editorial calendar template to organize content production across different channels. They use a collection of views to organize their calendar, like "Grouped by author," which shows a list of upcoming assets by author, or the "Publish" view, maps those pieces out on a calendar. And their Kanban helps them see every asset by production stage.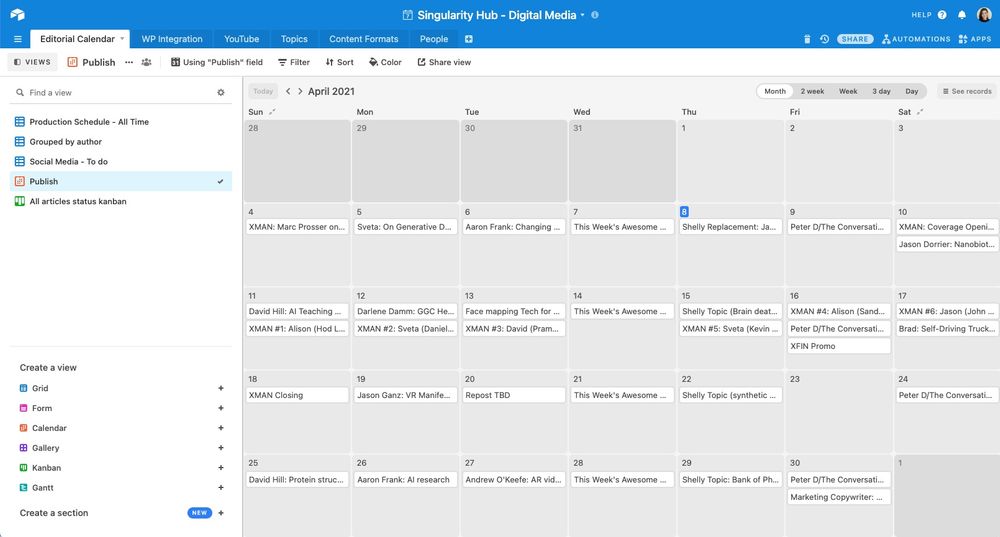 QuickBooks Resource Center
QuickBooks Resource Center makes resources to help small business owners start, grow, and manage a business. The QuickBooks team uses their Airtable editorial calendar template to strategize, edit, and publish content at scale. In their calendar, they have one main grid view that shows all content in production, including links to drafts, and eventually, the published piece. Editors use the calendar to filter the content by topic in their own views, which helps them find gaps in topic coverage.

How to use Airtable's editorial calendar template
With a little customization, you can take your calendar from an information repository to a go-to tool.
Ready to customize your own? Kick things off with this calendar template. In it, you'll find three tables (which look a lot like tabs in a spreadsheet). Here's how to use each:
Content pipeline: The content pipeline table is your place to organize all of your outbound assets. Use it to add key information about each asset, like: title, thumbnail image, status, publish date, channel, and more.
Campaigns: The campaigns table lets you create and manage individual content campaigns. Use it to outline budget, notes, and status. You can also use the "Related content" field to look up assets in the "Content pipeline" table, and link them to their respective campaigns. Once you do, this table will automatically count the number of total pieces in each campaign, and the number of pieces that are live (based on the statues you inputted in the content pipeline table).
Team: Here, you can create profiles for every member of your team. You can include details like title (to clarify their role in production), location (to help coordinate work across time zones), and contact information. Once you've set it up, you can also link teammates to different assets (in the content pipeline table) and campaigns (in the campaigns table).
Then, it's time to make it your own! Try customizing it to your team and workflow:
Edit fields like "Channel" or "Status" in the content pipeline table to reflect your production workflow and publication channels
Customize your own view using the "Views" panel on the left hand side. For example, you could start by using the "All content—by status" view in the content pipeline table. Then, customize it by using the "Filter" option at the top of the page to narrow the list down by publication channel, writer, campaign, and more.
Create your own editorial calendar
An editorial calendar helps stakeholders stay aligned, and content publishing on time. Using this content calendar template, you can get your calendar running quickly and easily. And when you're ready, you can customize your views, fields, and tables to make it custom to your workflow.
For more inspiration, you can check out more templates in our template library.
Sign up for Airtable for free