Use these guides to keep video teams organized—from script to screen.
The best video editors can lose hours studying granular details in a frame. But when you're running a team that produces dozens of videos each day or week, you can't afford to lose precious hours chasing down project details.
Does a producer need to buy a stock photo of the Eiffel Tower? Did the edits for an on-screen explosion push freelancers into overtime? With Airtable's video production templates, you can keep a firm grip on the finer points.
Even for teams working on short video content with no actors or set, video production can be incredibly elaborate. Stitching together elements like voice-over and screenshots requires intricate timing. It may also involve complex dependencies, meaning one task can't be completed until another task is finished. Add in live-action shots with humans and the stakes (and production costs) get even higher.
From pre-production planning through shooting and post-production finesse, our wide range of video production templates will help you track costs and production timelines while keeping an eye on the big picture.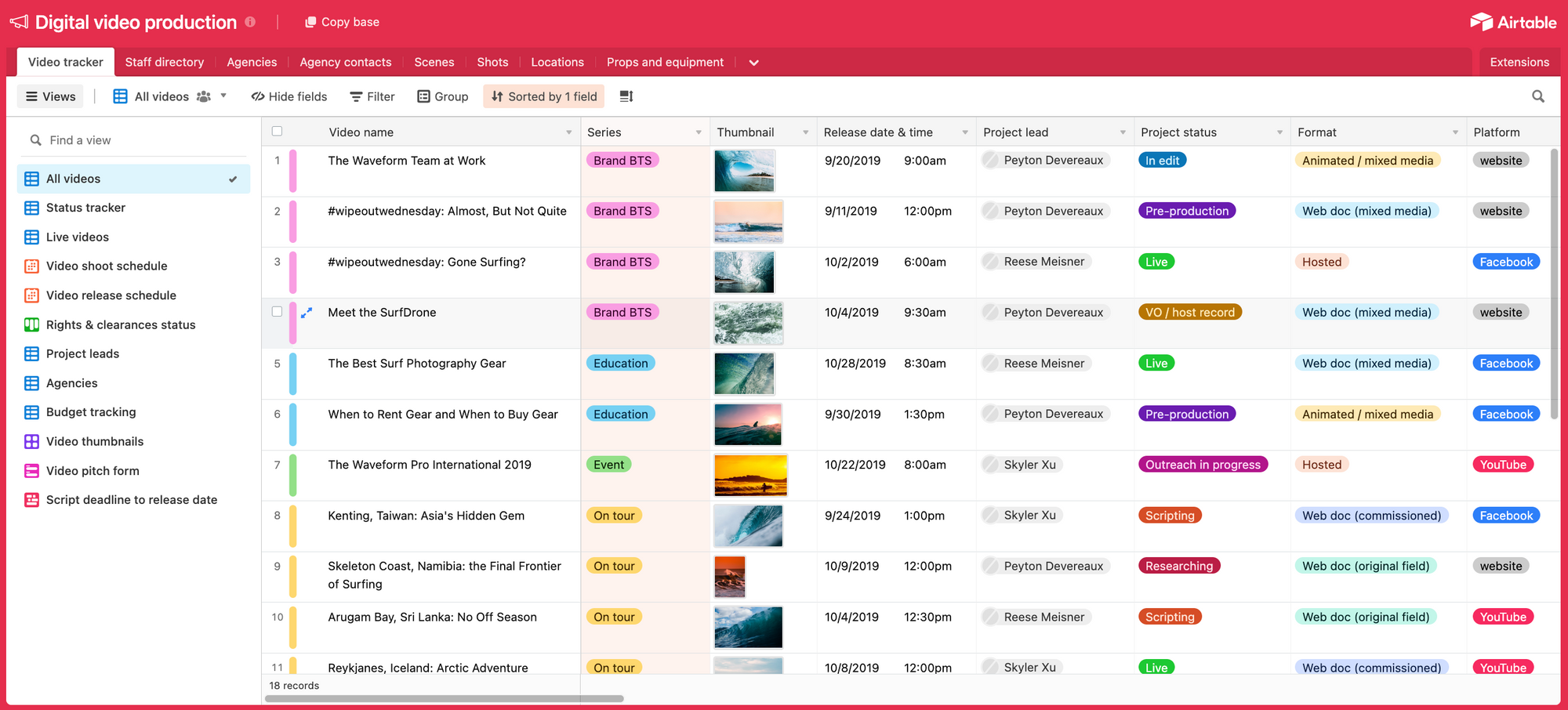 This template is ideal for medium-sized corporate video teams.
The Video Tracker table holds information about all your company video projects, complete with status, release date, format, and the name of the project lead. Want more detail in this table? Click into the Status tracker view, which gives a snapshot of which videos are already live, which are in pre-production or early research phases, and which need final approval.
Other specialized views help you manage different parts of your videos. Break down each shot in the Shots table by grouping records. From there, you can zoom in on technical specs like the equipment used and the camera angle.
Need a last-minute logo added to the end of a video? Your lifeline is the Staff directory table, which includes all employees attached to a video project, along with their contact info.
For larger in-house teams, there's the slightly more deluxe in-house video production template, which includes many features of the digital video production template but also comes with a built-in pitch form and script deadline calendar.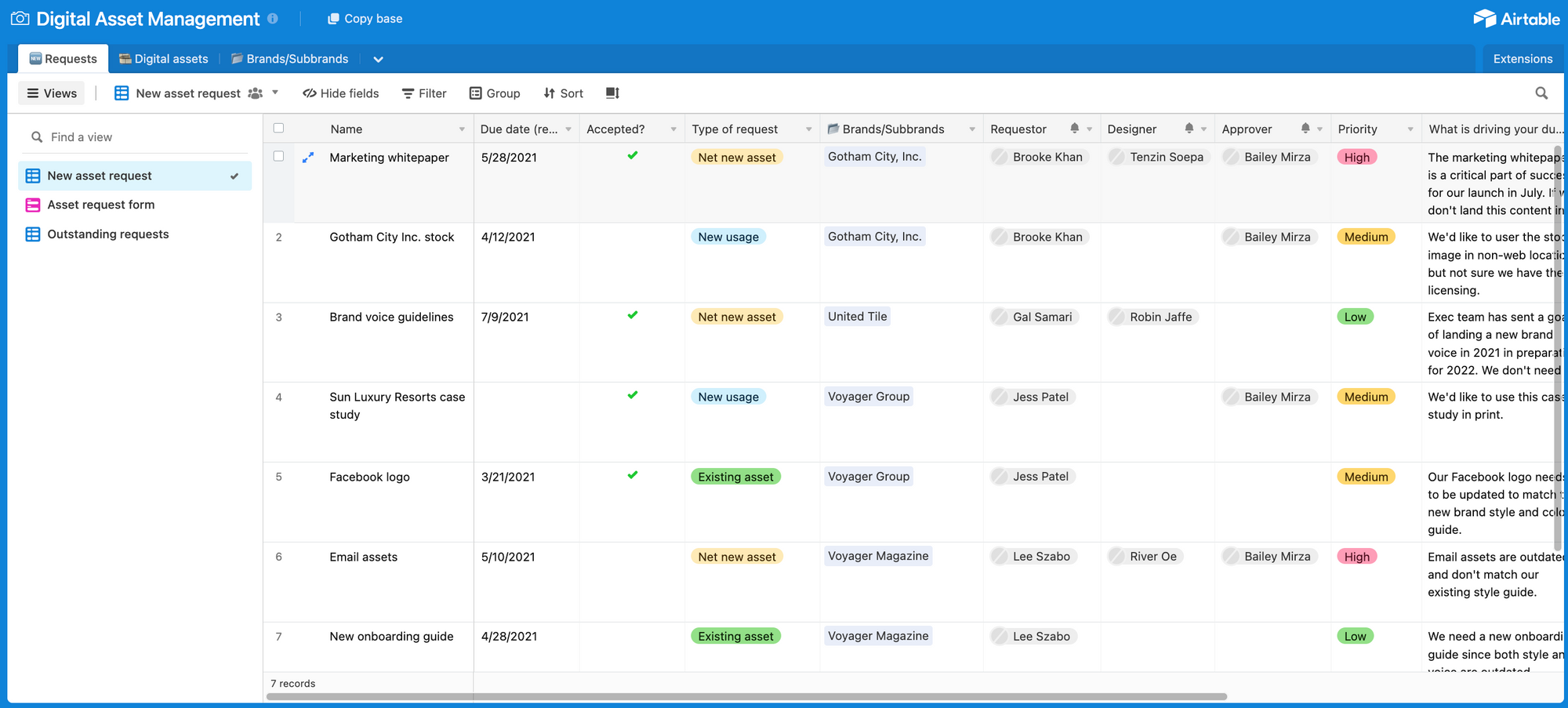 Behind the scenes, video production involves a much wider range of digital assets and visual files than viewers ever see. A Digital Asset Management system (DAM) helps you track the costs, permissions, and other details for all those stock shots and extra images in each scene.
A DAM can also help you organize completed videos. Does your sales team need access to some videos but not others? Do execs need easy access to promo reels? A DAM helps establish rules for how people in your organization should share and access digital assets. You can adjust permissions for each team according to their needs.​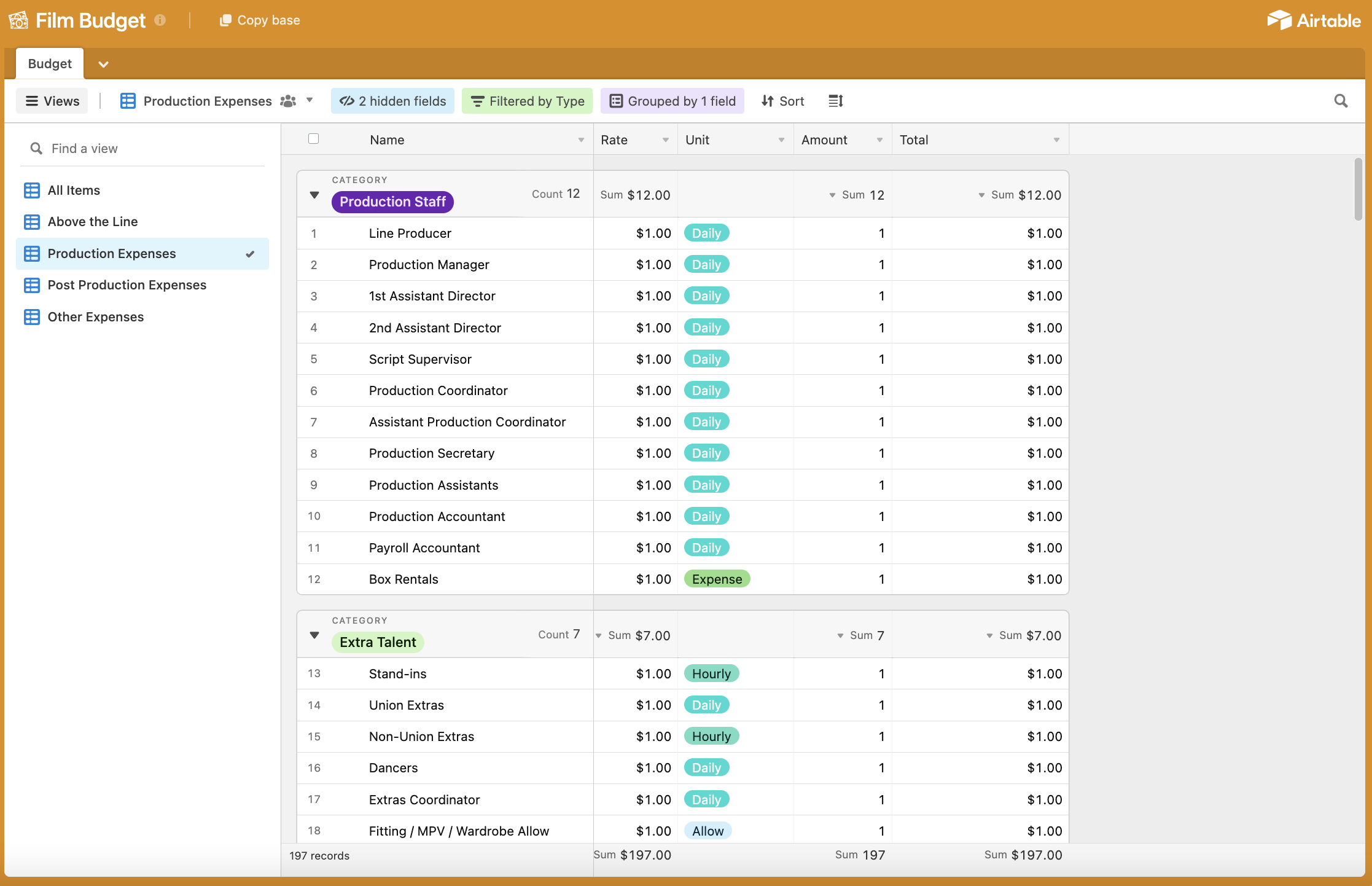 This template is designed to give producers a handy snapshot of each video's costs. Specialized views make it easy to sort production expenses from post-production expenses and all other expenditures.
Directors and writers might use the template as an at-a-glance guide to ensure their choices (filming venues, set designs, props, etc.) are in line with the budget a producer has in mind.
Casting (for on-screen and behind-the-scenes talent)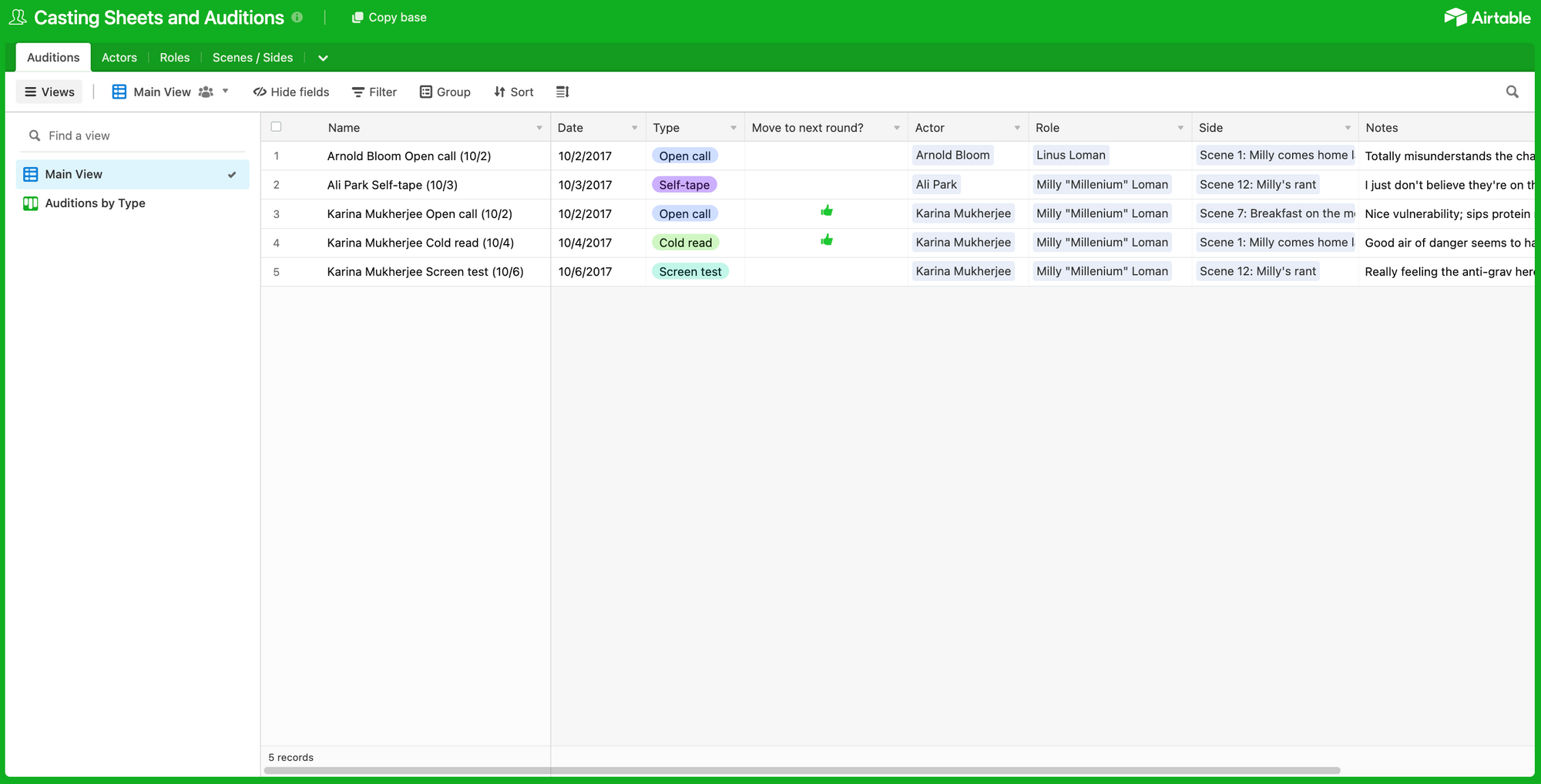 If you're running video production at an insurance company, it's not quite like announcing a casting call for Game of Thrones. But there are still plenty of similarities.
Finding just the right talent to explain complex business topics can make all the difference in how well those explanations are received.
This template lets you spend less time tracking down actors' résumés and more time focusing on winnowing the field to find the best talent match for your material.
Keep casting breakdowns, contact information, and audition records all in one place. The template has a built-in casting sheet form, complete with SAG-AFTRA status, that aspiring actors, models, and other talent can submit ahead of their auditions.
For wrangling non-screen talent, check out Airtable's contractor/freelancer management template. It lets you evaluate and track contractors and freelancers, linking them to specific aspects of video production like location scouting or photography.
This sleek template is Airtable's most straightforward video production guide.
Five tables—for Scenes, Shots, Props, Cast, and Crew—are all you need to keep a simple shoot organized. Because the template is cloud-based and accessible to anyone with permission, you can edit an actor list or track the cost of vampire teeth using your smartphone.  
For more indie production help, check out Airtable's film crew list template and location scouting template.
​